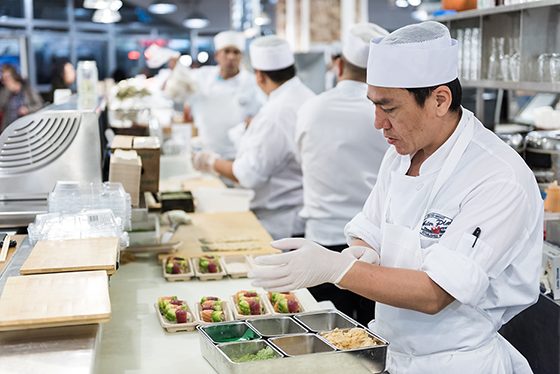 According to research firm Statista, there are currently more than 660,000 restaurants in the U.S., as well as tens of thousands of other facilities involved in the processing, manufacture, and/or service of food and beverages. For all of these locations, high-quality lighting that maintains a sanitary environment and prevents the risk of physical contamination is imperative.
In fact, confirmed Vito Palazzolo, MSPA, RS-REHS, CP-FS, and Manager of Food Safety and Industry Relations for the 50,000-member National Restaurant Association based in Chicago, IL, it's the law.
"Lighting requirements have been in effect since 1976 and, as detailed in the 2017 FDA Food Code, any lighting or other equipment used in a facility where food is prepared, processed, or served must meet NSF, ANSI, or an equivalent standard for food safety," he said. "If not, it could lead to a violation, removal of the lights, or could even prevent a food service facility from opening during the initial plan review until the lighting is brought into compliance."
According to Palazzolo, the rating by NSF International (formerly known as the National Sanitation Foundation), an organization that provides public health and safety-related standards and product certifications, ensures that a number of lighting-related standards are met.
Among those, "NSF-approved lighting products must deliver light output (footcandle) levels that are adequate for food preparation and food storage areas, and these products are required to be shatterproof to ensure that no broken glass splinters over food or other equipment," Palazzolo said.
NSF-approved lighting fixtures are also easily accessible, resistant to the intrusion of dust, water, and other hazards, and are designed for easy cleaning to minimize the breeding of bacteria or mold.
Litetronics had the needs of the nation's food manufacturing/service industry firmly in mind when designing its NSF High Bay, a powerful and highly-durable light fixture that not only delivers the benefits of outstanding efficiency, long life, and low maintenance, but meets strict government regulations for sanitation in the food and beverage industry. Delivering 130 lumens of LED illumination per watt to ensure high visual acuity, Litetronics' NSF High Bay is constructed using corrosion-resistant materials and designed with a smooth outer shell to reduce the existence of crevices where moisture and bacteria can accumulate and cause contamination issues. In addition, the fixture is IP69K-rated, ensuring its protection from dust, grease, smoke, or high-pressure water jets, as well as fully NSF-tested and approved for usage in the demanding environments associated with food processing and handling.
"For the nation's many organizations involved in the manufacture, preparation, storage, and/or service of food, the use of NSF-rated lighting fixtures enables them to comply with Federal regulations and prevent possible issues related to physical contamination, cleaning, and sanitization," Palazzolo concluded. "It's about ensuring both adequate lighting and food safety."