LEDs may only account for a small slice of all high bay installations in the U.S. today, but research reveals that the opportunity to upgrade these applications to LED technology is significant….and lucrative!
Did You Know?
According to a 2015 study by the Department of Energy entitled Adoption of Light-Emitting Diodes in Common Lighting Applications, LEDs accounted for 3.1 million, or 2%, of all high and low bay installations as of 2014, but that this represented a nearly eight-fold increase from 2012 levels. The study further revealed that if all of the nation's estimated 139 million high and low bay fixtures were upgraded from T8/T5/T12 fluorescent and metal halide/high pressure sodium to LED technology overnight, it would result in immediate energy savings of nearly 1,200 trillion BTUs (roughly equivalent to the energy consumed by the entire states of Mississippi or Kansas!) and would deliver annual energy cost savings of nearly $12 billion.
With their outstanding efficiency, high lumen output, long life, superior lumen maintenance, and proven durability in a broad range of high-ceiling venues – from big-box retail stores, warehouses, and manufacturing facilities to industrial settings, gymnasiums, and natatoriums – LEDs are increasingly demonstrating their unique ability to successfully meet the needs of the nation's most demanding high bay applications.
Tap Into Your Share With a Stellar Solution
Among the market options, Litetronics' popular new LED High Bay Fixtures are particularly well-suited to meet the challenges of these professional settings thanks to their range of powerful features and benefits, such as: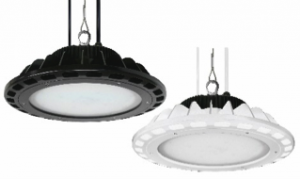 Support ceilings up to 40 feet in height
Deliver outstanding illumination of 16,000-29,000 lumens
Family of 125, 185, and 220 Watt fixtures consume less than half of the energy of equivalent metal halide systems and up to a third of the energy of equivalent T5 HO fluorescent systems
Last 79,000 hours, many times longer than metal halide or fluorescent equivalents
Available in 4000K and 5000K color temperatures with a high CRI of 84
IP65-rated to ensure safe, durable, and waterproof operation
Compact and lightweight design enhances flexibility and ease of installation
Available with a range of accessories including cables, connector options, brackets, and mounting hardware to enhance design versatility in the field
Incorporate integrated 0-10V low-voltage dimming options and accessory proximity sensors for even greater energy savings
Offer a warranty of up to 7 years by one of the industry's most trusted and long-standing manufacturers
The DOE study confirms that LED high bays are among the most significant energy-saving opportunities available in today's professional lighting market. So don't wait to upgrade your high-ceiling applications with Litetronics' powerful new LED High Bay fixtures and get on the path to significant energy and cost savings today!
************************
To learn more about the innovative new Litetronics® LED Retrofit products or Litetronics' many other advanced-design, energy-saving lighting solutions, visit www.litetronics.com, contact customer service at (800) 860-3392 (toll free) or (708) 389-8000, or e-mail customerservice@litetronics.com.
For more information, contact:
Sam Cremin
Director of Marketing and Product Management
Litetronics International, Inc.
(708) 653-3420
scremin@litetronics.com