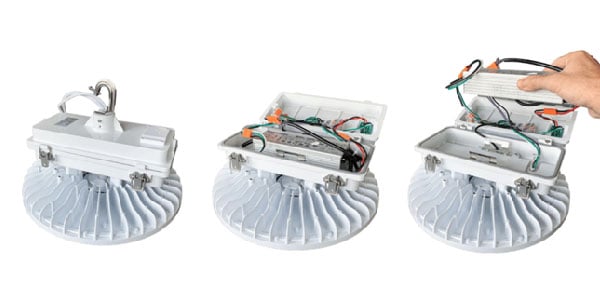 Litetronics is always on the job, bringing you the best products at the best prices.
We also keep our eye on what's happening with LED technology, adding the best new features to make our own products more energy efficient, smart and flexible.
To that end, we've recently updated some fan-favorite high-bay products.
The theme of these updates is customization, making it even easier to tailor-fit your fixture to meet customer's needs without having to manage multiple SKUs.
High Bays Get Sensitive
Customers are changing how they use their spaces, which means they need versatile fixtures to help them adjust. Meanwhile, the pressure to realize energy savings by lowering lighting costs is only growing.
Sensors give LED fixtures the smart capabilities to meet these customer demands in high ceiling spaces. For example, a customer may have a warehouse with sections that are used more frequently than others and wants to use occupancy sensing to keep the lights on only where needed. Or a school gymnasium may be used primarily for basketball games but needs another lighting configuration for graduation ceremonies and other gatherings.
Both our LED Round High Bay product line and LED Linear High Bay fixtures now come with thoughtfully designed sensor capabilities that can meet those diverse needs:
Sensor Port
A port on the end of the fixture makes it easily to add an occupancy or daylight sensor so customers can stop burning lights in empty or daylit spaces. A rubber-sealed stopper for the port protects the switch and keeps any debris, dust or moisture from getting inside after installation.
New Smart PIR Sensor
We now offer a smart passive infrared (PIR) sensor that allows high bays to be controlled via the LiteSmart mobile app. Just by plugging in the sensor, you're able to group fixtures together and control on/off functionality, dimming, settings for daylight harvesting and occupancy sensing, scene creation and selection, and even automate the hours of operation – all without having to go fixture by fixture.
Another benefit is team management via the app. While reserving most controls for admin level users, you can offer limited options to guests to control actions like on/off, dimming and switching between scenes.
Updates to the LED Linear High Bay Line
Our next generation LED linear high bay has the same sleek look as the current model, but with additional updates you'll appreciate.
Adjustable Selectable CCT Module
One of the biggest changes to this product is the option to choose between 4000K or 5000K — right at the time of install. Should the customer request an adjustment in the color temperature, adjustments can be easily made right on the fixture. Again, you'll notice the snug cover that protects the switch from dust and debris post-install.
Wattage and Size Options
This fixture comes with four different wattage options ranging from 88W up to 248W. The product is available in four different sizes and lengths associated with these wattages. The smallest is 19 inches in length and the longest is 39 inches in length.

Don't Forget These Quality Features You Expect From Litetronics Fixtures:
160 lumens per watt
Standard and high voltage options
Polycarbonate lens
DLC premium rated
Zero to 10 volt dimming
UL damp location rated
10-foot cord for easy installation
10-year warranty
Emergency battery backup compatible
Surface or pendant mounting
Updates to the LED Round High Bay Product Line
This line of fixtures also benefits from upgrades that make the line more versatile, easy to install and durable.
Two Temperature Ratings
Our standard model LED Round High Bay is rated for -40 to 113 Fahrenheit. With this update we are also offering a model for high temperature applications that is rated up to 149 Fahrenheit. This model also includes a corrosion resistant coating for that extra durability.

On the high temperature model, we've added a replaceable driver to the injunction box. This is a smart option for those high temperature environments where you want to be able to quickly replace the driver versus an entire fixture.
Range Of Wattages
The High Bay product line is available in a range of wattages consistent with our current offering from 115 watts up to 240 watts. That increases the lumen output from 16,000 lumens up to 33,000. These fixtures are fixed wattage and fixed color temperature.
Multiple Mounting Options
Both models come with a removable hook that can simply be unscrewed and replaced with a pipe for pendant mounting. The new model will come with an upgraded yoke mounting kit that will match the size of the new model and allow five different settings for wall mounting, ceiling mounting, and directing light at any angle you need.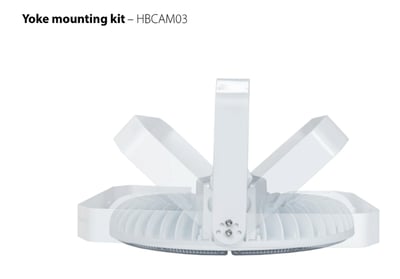 Don't Forget These Quality Features You Expect From Litetronics' Fixtures:
140 lumens per watt
Standard and high voltage options
Corrosion resistant coating on high temperature model
Hook, pendant or yoke mount
UL rated for outdoor and indoor applications
IP 69, IK 10 rated
One-piece polycarbonate lens
DLC premium rated
10-foot cord
100,000 hour rated life/ 10-year warranty
Emergency battery backup compatible
We Sense More Projects in Your Future
Upgrading our High Bay products with sensing technology is a decision we know will add even more value to your offerings. We hope being able to offer customers additional options in occupancy sensing and daylight harvesting will send more business your way.
Savings-conscious customers sometimes need these value-added extras to appreciate the benefit of an LED lighting upgrade. If you're looking to make your most convincing pitch, be sure to review our e-book, How to Sell a Skeptical Customer on LED Lighting by Proving ROI.