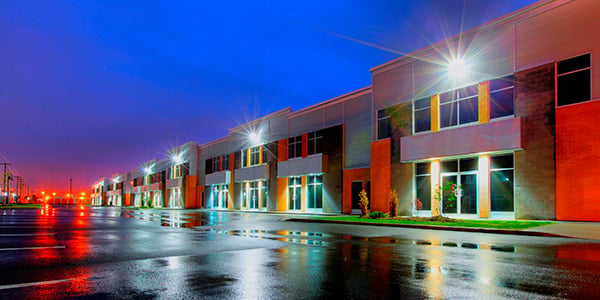 It's a tough old world out there for outdoor lighting fixtures. Day after day, they must stand up to a relentless onslaught of elements, from the heat of the summer's sun to winter's subzero temperatures.
As long as they endure all of that, can you really ask for anything else? We think the answer is yes.
The measure of great outdoor lighting is about more than simple endurance. To really take things to the next level, you need a lighting solution that improves safety and visibility, helps your customers save money and energy, and uses technology to offer "smarter" options for industrial lighting.
Outdoor LED lighting from Litetronics offers all that and more. Here's what you can expect.
Improve Outdoor Visibility While Still Saving Energy
Whether or not your customers are operating 24 hours a day, chances are they're hard at work outside of daylight hours. You need a lighting solution that can offer them the best possible visibility for the safety and security of their people — without running up their energy bills.
Outdoor LED lighting offers significantly more brightness and visibility than incandescent bulbs. They're a great solution for building facades, parking lot lighting, paths of egress, and anywhere else your customers need good visibility.
Those same properties also make outdoor LED lighting an ideal choice for loading docks or exterior storage applications. When your customers have product being moved outside their facilities, they need good visibility to reduce the risk of potential injury. By offering outdoor LED lighting, you can provide a solution that helps to keep people safe.
And because LED fixtures use less energy, your customers don't need to choose between adequate lighting and saving money. Instead they'll enjoy the best of both worlds as they get better fixtures that cost less to operate.
More LED Fixture Options Allow You to Customize Your Solution
No two industrial sites are exactly alike. To provide the right solution to your customers, you'll need to deploy different fixtures for different applications. Here are a few of our most popular outdoor LED lighting products, along with some common applications for each.
LED Flood Light
Our LED flood lights are a versatile solution, available in two sizes that range from 30W to 330W. These are ideal for use with monument signs, storefronts, building facades, and many other outdoor applications.

LED Slim Wall Pack
Available in two sizes and ranging from 40W to 120W, the LED slim wall pack lighting pairs a convenient swing-open unit with a 50,000-hour rated life and 5-year warranty. This unit has field selectable wattages and CCT (3000K, 4000K and 5000K), as well as photocell and pluggable sensor socket. For industrial applications requiring plenty of versatility, this fixture is a great choice.

LED 2-in-1 Traditional or Full Cut Off Wall Pack


Ideal for walkways, loading docks and other points of entry or egress, this wall pack can be used in full cut off mode or a full cut off and traditional mode, a flexible configuration that is unique in the industry. Ranging from 30W to 100W, these LEDs come with field selectable wattages and CCT, as well as a 50,000-hour rated life and 5-year warranty.

LED Area Light
LED area lights offer a great replacement for incandescent pole lighting for parking lots, large industrial campuses, and many other applications. These fixtures are ideal for safety and security considerations, and they provide peace of mind to your customers.
Smart Controls Help You Save More With Outdoor Lighting
Outdoor LED lighting is a great way to help your customers save energy and money. But if you really want to take it to the next level, then you'll want your solution to include smart sensors and controls. This technology makes it easier to control and automate lighting, which helps your customers maximize their potential savings.
For example, if you have outdoor lights that don't need to stay on 24 hours a day, you can outfit them with photo sensors to detect when the sun is shining. These sensors will automatically shut off lighting when it isn't necessary, saving your customers energy.
Not every outdoor lighting solution benefits from this level of automation. In some cases, your customer will need to maintain manual control over their outdoor LED lighting. Good thing there's an app for that! With LiteSmart from Litetronics, your customers can access full management controls of their lighting systems right from their phones.
All these advanced features for LEDs from Litetronics are a great way to add more value to your projects and fine-tune them to the needs of your customers.


Ready to Rethink Your Next Outdoor Lighting Project? Litetronics Can Help
If your customers aren't using LEDs for their outdoor lighting, you've got a big opportunity. LED lighting solutions from Litetronics can create a safer, more secure outdoor environment, all while saving your customers money. With flexible product options that can be further enhanced with smart control features, you can create a tailored lighting solution guaranteed to meet the needs of your customers.