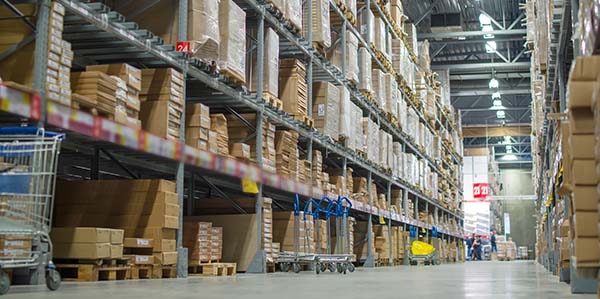 Warehouse managers may not pay much attention to their overhead lighting: If they can see well enough, they might assume the lighting is doing everything it can and should.
But high-quality lighting in commercial and industrial spaces can do so much more than deliver energy savings.
Lighting affects the efficiency of operations and the morale and productivity of workers. And poor lighting can pose serious safety concerns. This is especially true if the warehouse is lit by outdated incandescent or fluorescent fixtures. Upgrading to LED high bay lighting can make a big impact on warehouses in particular.
Let's walk through the top five benefits you'll want to consider:
Benefit #1: Energy Efficiency
Perhaps the single most important advantage LEDs offer is their lower energy consumption compared to older types of lighting. LEDs need only a fraction of the power used by traditional bulbs and can quickly deliver significant savings in utility costs.
For property owners and managers with bigger commercial buildings, it's easy to see the energy savings potential in replacing a large quantity of fixtures.
Plus, changing out old fixtures for LED fixtures has the added benefit of contributing to a facility's environmental friendliness by reducing its consumption of natural resources and the emissions produced. This is a high priority for many company's stakeholders and customers and can improve a company's reputation in the market.
Another benefit of using LEDs over traditional lights is that LEDs generate less heat. This makes it easier to keep a large facility cool in the summer — yet another way in which LEDs can make a business more energy efficient.
Benefit #2: Simple Installation & Maintenance
Before you balk at the prospect of changing out all your fixtures for LEDs, you should know that the LED installation process is designed to be simple and fast. That means you'll get the benefits of the upgrade without the downtime. LED fixtures like we offer at Litetronics feature these time-savers:
They require fewer tools. That means that for the installers, the process is quick, straightforward and ergonomically friendly to boot. That shortens the time warehouse space is out of commission.
They're designed with installation in mind. For instance, Litetronics' high bay fixtures have 10-foot power cords so the installer can use the stock cord that comes on the fixture rather than having to source and wrangle extra cord.
They come with clear instructions. Every Litetronics' fixture comes with installation instructions that are clear, simple, well-written, and with illustrations that are actually helpful!
The time-savings don't stop once the installation is over. With LED warehouse lighting, maintenance is drastically reduced.
Changing a burnt-out bulb at home isn't a huge project. But that changes when the bulb is 50 feet above your head and takes a lift and dedicated maintenance staff time to replace. Then there's the disruption to business as usual if an area can't be used until the lights are back on.
That's another reason LED lights make sense in large industrial spaces. Their typical life span can be as long as 100,000 hours – which calculates to over 11 years! This means you won't spend as much time or money replacing bulbs. That math can add up quickly when you think about the square footage being lit and the manhours required for each replacement.
Benefit #3: Better Lighting for Increased Safety & Productivity
The safety benefits of LED are significant. As workers make their way around the warehouse, tricky areas like aisles, staircases, catwalks, and high traffic corners can be kept brightly lit to avoid collisions and aid in navigation.
Most LED fixtures generate cool, white light that's closer to natural daylight than that of other bulbs. As a result, they're a great choice for work environments. The cool light from LEDs provides more contrast to help workers see differences in what they are working on, like between black and navy blue. In a warehouse setting, that can mean orders can be filled more accurately or parts correctly identified.
The quality of light in a workspace impacts how productive employees can be. LEDs are less likely to cause eyestrain, which can contribute to headaches and fatigue. Plus, working in a well-lit space makes employees feel more energized and satisfied with the environment.
Benefit #4: Modern Technology
LED fixtures are smart…literally! They can come with technology features that respond to the use of the space and compound the energy savings you can realize.
Occupancy sensors turn the lights on only when needed. That can be a big benefit in the expanse of a large warehouse. Because LEDs don't have the warmup or re-strike times of fluorescents, the lights come on instantly and will shut off after a set-time of inactivity in the space.
Also, consider workers on forklifts. You don't want them having to get off the machine to turn lights on and off or driving into areas that aren't lit yet. Occupancy sensors, unlike motions sensors, can also distinguish between repetitive motion, like from machinery or a fan, and people.
Benefit #5: More Durability
A warehouse is a rugged environment where heavy machines are frequently used. Unlike their incandescent and fluorescent counterparts, LEDs are durable enough to stand up to the abuse of a busy workplace. Because they're much harder to shatter or break, there's less chance an accident will take an LED fixture out of commission.
Even so, most Litetronics LEDs come with a 10-year warranty. Contrast that with older or inferior products with only a three-year warranty. A longer lasting product guarantees you'll get more time between lamp changes, more productivity and more savings.
Common Litetronics Fixtures for Warehouse Settings
High bays are the most commonly used fixture types for LED warehouse lighting. Here are a few of the fixtures that Litetronics has to choose from.
Round High Bay PL

The LED Round High Bay PL is a one-for-one replacement for traditional fixtures in high ceiling locations that can reduce energy costs by 60-80% over HID fixtures.

LED High Bay SL

The High Bay SL is a basic, performance driven LED fixture that comes with all the need-to-have options, without the budget-breaking price. It delivers 130 lumens per watt, with lumen levels ranging from 13,000 – 26,000.

Hazardous Location LED High Bay

In environments requiring a heightened level of safety, these LED light fixtures for high ceilings minimize fire and explosion risks in industrial settings. These fixtures can be pendant or yoke mounted.

Food Grade LED High Bay

These food grade light fixtures deliver top of the line efficiency while maintaining a heightened level of sanitation and minimizing time and effort on maintenance and cleaning.

LED Linear High Bay

The Linear High Bay can be individually fine-tuned to deliver the necessary light and functionality for the warehouse space. This highly efficient fixture can accommodate a pluggable sensor for occupancy sensing and daylight harvesting.

Think There Are Only Five Benefits to LED Warehouse Lighting?
These are just a small handful of reasons why LED high bay lights can be a great addition to your warehouse. But be sure to review our website to learn about all the incredible features our products offer, like surge protection, our durable polycarbonate lenses, remote control of sensor setting, and more.
As a recognized leader in LEDs for industrial and commercial spaces, Litetronics has the expertise you need to help you convert your building to brighter, longer-lasting LED lights. We're easy to work with and offer a wide selection of high-efficiency products to help you complete your project. Get in touch with us today to request a quote or to learn more about what we can do for your facility.