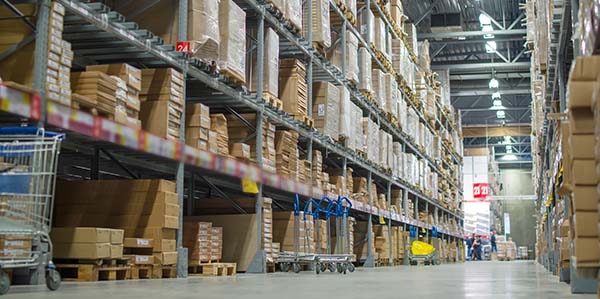 Traditionally, warehouse managers may not have paid much attention to their overhead lighting, as long as it was working.
But today, LED lighting has the potential to transform the warehouse — and deliver massive efficiencies. The key is knowing how to choose the best lighting fixtures for these demanding spaces.
What do you need to know about these types of lighting projects, and how can you recognize the best fixture for the job?
Let's get started.
The Benefits of LED Warehouse Lighting
You're already well aware of the benefits of LED lighting in general, but in warehouses, LED lighting really shines.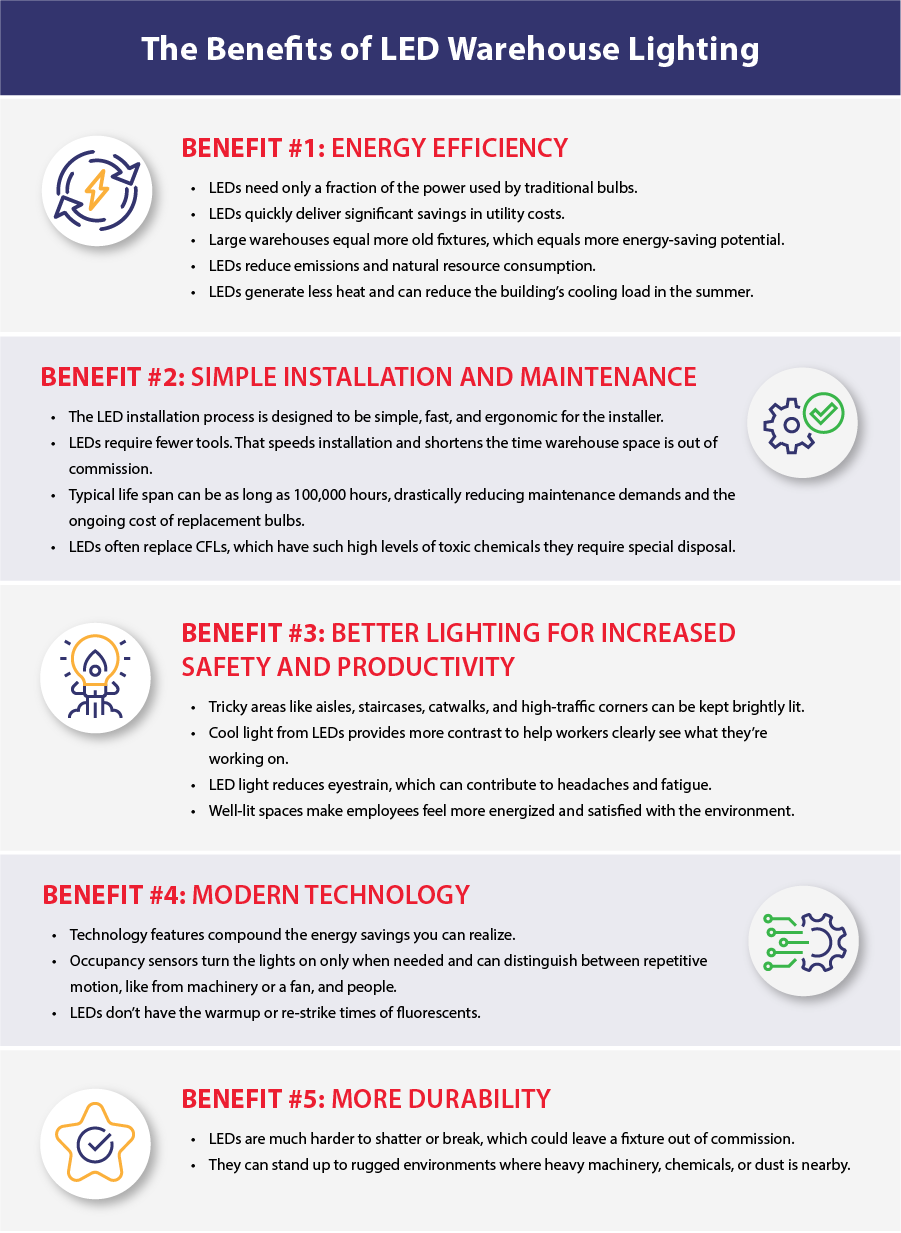 Typical LED Warehouse Lighting Needs and Fixtures
Lighting vast industrial spaces like warehouses takes a lot of illumination. These spaces have lots of vertical and horizontal space and often high shelving and machinery that can cast shadows — shadows that can hide hazards like forklifts or other moving/dangerous equipment.
Your customers will need powerful fixtures that can provide the appropriate foot-candle levels and light quality to reach every corner.
Then there are regulations on industrial facility lighting from the Occupational Safety and Health Agency (OSHA). OSHA sets minimum requirements for common commercial installations in foot-candles of illumination or lux levels:
Warehouses, walkways, and exits: 100 lux
Warehouse loading bays: 300-400 lux
Warehouse aisles: 100-200 lux
For specialized or task lighting in a warehouse, LED technology allows customers to use beam angles to direct light right where it is needed.
The most common LED fixtures in warehouses are round or linear high bay lights, or high bay vapor lights. If the warehouse is not very tall, low bay lights or tube/strip lights may be sufficient to deliver the required foot-candles of illumination at floor level.
When power fails in a large space like a warehouse, LED emergency lights are better-suited to getting people out safely. Depending on the height of the ceiling in a space, it can be hard to navigate long, tall aisles to find the closest exit without strong overhead light. An LED emergency light for high ceilings can reach the minimum one-foot-candle requirement at floor level from 30-40 feet up.
On the outside of a warehouse, area lighting, flood lighting, and wall packs are well-suited for exterior installation and can extend operational hours and employee safety for loading docks.
What Makes a Smart Choice in an LED Fixture?
You know you'll be getting vastly improved energy efficiency and environmental sustainability with an LED fixture. But what other specs and features should you look for?
Ease of installation
Instructions that are clear, simple, and well-written and that come with illustrations
Minimal assembly needed and fewer tools required for installation
Lightweight fixtures for easy handling
Multiple settings available from one fixture
Extended power cords and mounting hardware supplied
Ease of maintenance
Multi-year half-life and a long warranty period
Surge protection
Durable polycarbonate lenses
More time between lamp changes equals less operational interruptions
Ability to illuminate colors correctly for safety and to prevent mistakes
Automatic monthly self-testing functions for emergency backup batteries
Easy-to-use advanced features like controls and sensors
Related Reading:
See how Javo Beverage traded in their yellow, dark, and dingy HID and fluorescent fixtures for a safer, brighter environment with a two-year payback … and energy savings of 67%: "Thanks to our Litetronics LEDs, our lighting is so much brighter and whiter than before and will deliver a payback period that made our decision a no-brainer."
Read their story →
Now that you know what to look for in an LED fixture, let us tell you about the Litetronics products for warehouses that tick all those boxes.


Common Litetronics Fixtures for Warehouse Settings
While high bays are the most commonly used fixture types for LED warehouse lighting, we offer a full line of fixtures to complete your lighting plan.
Round High Bay PL

The LED Round High Bay PL is a one-for-one replacement for traditional fixtures in high ceiling locations that can reduce energy costs by 60%-80% over HID fixtures.

LED Round High Bay SL

The new Litetronics LED Round High Bay SL with Selectable CCT and Selectable Watts is an affordable, one-for-one direct replacement for HID fixtures that delivers an immediate reduction in energy costs while improving the consistency and quality of light within a space.

Hazardous Location LED High Bay

In environments requiring a heightened level of safety, these LED light fixtures for high ceilings minimize fire and explosion risks in industrial settings. These fixtures can be pendant or yoke mounted.

LED Linear High Bay

The Linear High Bay can be individually fine-tuned to deliver the necessary light and functionality for the warehouse space. This highly efficient fixture can accommodate a pluggable sensor for occupancy sensing and daylight harvesting.

Think There Are Only Five Benefits to LED Warehouse Lighting?
These are just a small handful of reasons why LEDs offer warehouse lighting that is brighter, safer, easier to control, and more energy-efficient.
As a recognized leader in LEDs for industrial and commercial spaces, Litetronics has the expertise you need to help you convert your building to brighter, longer-lasting LED lights. We're easy to work with and offer a wide selection of high-efficiency products to help you complete your project. Get in touch with us today to request a quote or to learn more about what we can do for your facility.