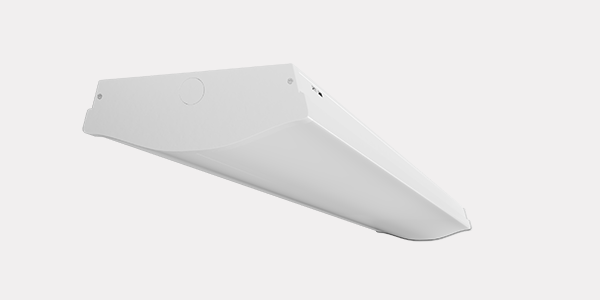 At Litetronics, we always keep our ear to the ground. We don't only listen to what you need right now – we listen to where the future of lighting is headed and how it will fit into the workplaces and facilities of the future.
We're on a mission to help you deliver greater energy efficiency, better light quality, and more features for your customers, while your team enjoys an easier installation process. As such, we're excited to introduce this year's product updates and new LED lighting products.
Updated LED Products
Here's what's new in Litetronics LED lighting solutions for 2021:
Strip Fixture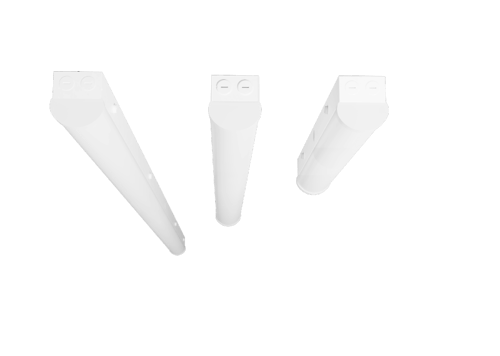 In their first generation, strip fixtures came with a fixed wattage and color temperature, which put certain limits on their use.
In our second generation version, Litetronics strip fixtures come with adjustable wattage and color temperature – the first of its kind for this fixture type! This means once you're on-site, if a certain application or room calls for a different color or output setting, you've got it right there with the same unit.
Originally the product was offered in four- and eight-foot lengths only. This 2.0 version is also available in a two-foot length, which is ideal for more compact spaces like workshops. All lengths come with the versatility of adjustable wattage and color temperature.
We've also minimized the SKU count. While each wattage and CCT setting used to be an individual SKU, we've now condensed three wattage and three CCT settings into one SKU. This will be a big bonus for distributors from a stocking perspective.
Finally, we've also made the installation process easier by adding a push-button to open the fixture and access the driver. No tools are needed – a real time saver for your install team.
Stairwell Fixture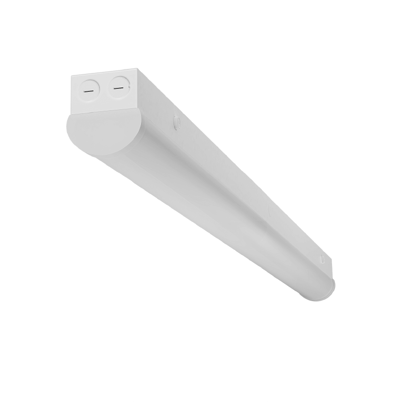 Many spaces, such as stairwells or storage rooms, have only sporadic traffic, making them the perfect application for fixtures with integrated occupancy and daylight sensing. If the stairwell only needs to be lit when in use (or if windows allow the customer to dim lights during daylight hours), a fixture with these sensors is the perfect option.
We've made similar upgrades to our stairwell fixture as we did to the strip fixture:
Adjustable wattage and color temperature
Single SKU for easier inventory management
Quick push-button driver access
Our stairwell fixtures now come with integrated occupancy and daylight sensors, as a standard (but high-value) feature.
Emergency Battery Backup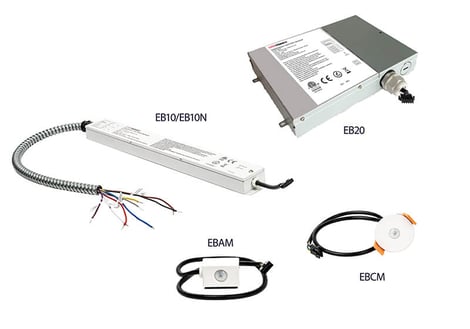 Our original emergency battery backup units did the job, but technology is moving forward and so are we.
As we've expanded our product line to include sensor capabilities and smart functionality, we've also had to evolve our emergency battery backup options to cover the range of products we offer.
Here's an overview of the new emergency battery backup units we're introducing this year:
Our EB10 and EB10N were designed to operate with most of our indoor commercial fixtures. In times of power loss, they deliver 10W for up to 90 minutes, supplying enough light to guide occupants to safety. The EB10 is compatible with all standard fixtures, while the EB10N can be applied to any of our Smart Series fixtures. Each are capable of delivering enough light to meet code requirements in areas with a standard 8-12 foot ceiling.
Our EB20 is a 20W unit designed for higher ceiling (>25') applications. This option is intended to support our growing line of high bay products, bringing essential battery backup to a range of applications, such as warehouses, manufacturing plants, gymnasiums, and large retail stores.
We've also improved the line by adding two options for indicator light display modules. These modules connect to the EB unit (which can be hidden out of sight) and provide a visual confirmation of the unit's operational status. One option can be recess mounted in grid ceiling panels, while the other can be applied via adhesive to a wide range of surfaces, or directly to the side of a fixture.
New LED Products
Emergency Light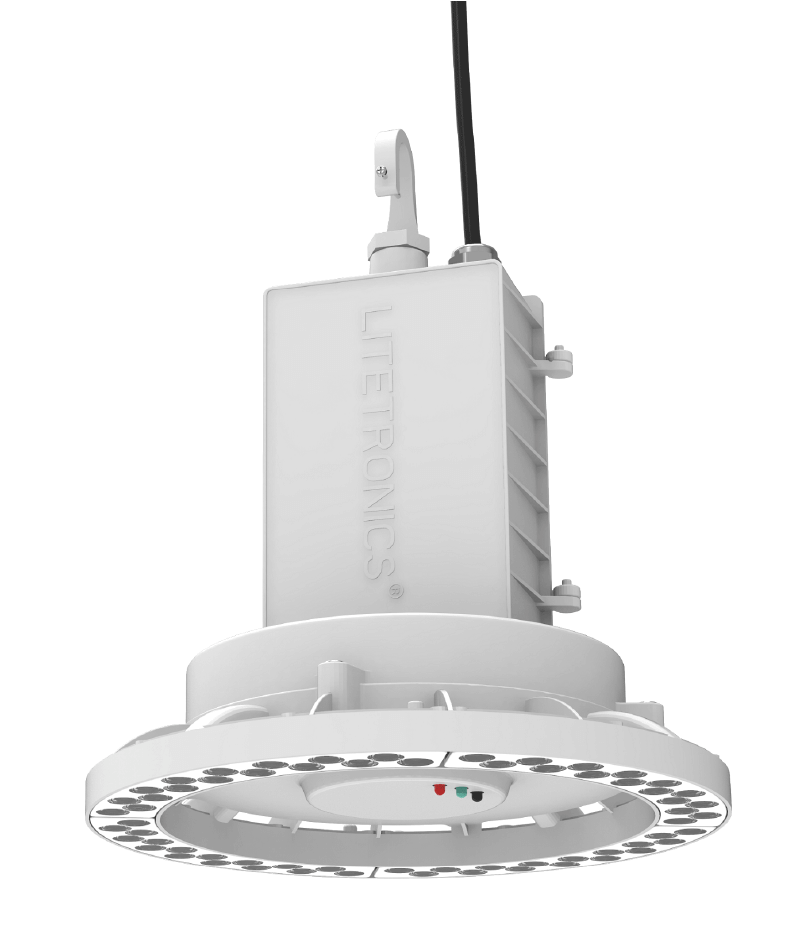 We're complementing our emergency backup battery units with a new standalone light that only functions during emergencies.
This fixture is geared toward high-bay, high ceiling applications. Standard emergency lights for high ceiling spaces are typically side-mounted and placed lower on a wall to make the most of the light output. This can cause shadows and dark spaces from obstructions like cubicle walls or equipment. Our emergency light is ceiling mounted, providing more light with better reach for improved safety.
In addition, our emergency light is designed for higher output situations that demand its 4,000 lumens. That is more light output than the battery backup on a standard fixture can generate. With its adjustable voltage, it can be used for standard or high voltage applications.
Wrap Fixture

Our new wrap fixture is the retrofitters friend and the ideal replacement for existing fluorescent strip fixtures. With its low profile and wider body, it can cover up the footprint of the original fixture. That isn't the case with most strip fixtures which are very narrow and can leave telltale signs of the previous fixture (like paint discoloration) on display.
It's also an attractive option for new-construction and renovation projects. The wrap fixture boasts many of the popular, updated features of our strip fixture. Its four-foot length is our most in-demand size. It comes with adjustable wattage and color temperature for flexible use within a facility from a single fixture. And, as with the strip fixture, we've condensed four wattage and three CCT settings down to a single SKU for easier inventory management.
Litetronics Listens
At Litetronics, we keep our ear to the ground – and our eyes to the future.
The decisions we make about new LED products (and product upgrades) are inspired by the feedback we get from customers just like you. At the same time, we know you rely on Litetronics to give you trusted guidance on emerging LED lighting technologies that will help you offer irresistible value to your clients.
Speaking of clients, translating the benefits and capabilities of LED lighting into a persuasive pitch is a skill every retrofitter needs. We've put together smart tips and helpful formulas in our e-book, How to Sell a Skeptical Customer by Proving LED Lighting ROI.