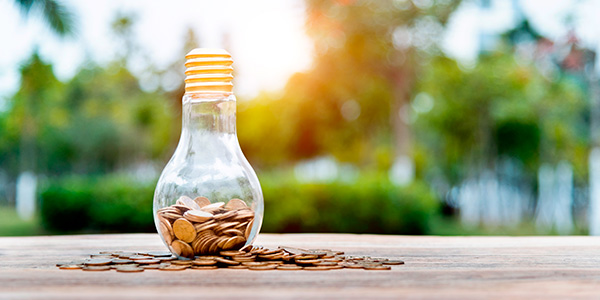 For electric utilities, rebates have proven to be an invaluable tool, encouraging customers to upgrade to more energy efficient bulbs, appliances, heat pumps, and more.
While every rebate program has its own nuances, there are trends that emerge every year. Recently, our friends at Encentiv Energy reviewed data from mid-February 2022 through to February 2023 to identify what changes are happening in LED lighting rebates across the country. As part of their work using cloud technology to make rebates faster and easier to find, Encentiv Energy tracks rebate programs throughout the US and Canada.
After taking a close look at the findings, the company identified three key trends that will shape the upcoming year.
Here's what they found, and how it may impact your business.
Trend #1: Strong Investment in Commercial LED Lighting
Encentiv Energy began their analysis by looking at downstream lighting rebate programs. In this case, "downstream" refers to programs in which the rate payer works directly with the utility (or with a third party working on the rate payer's behalf) to develop the lighting project, to submit to the utility for approval.
While the pandemic greatly slowed these downstream programs, they've shown significant growth over the last year. In particular, there has been a rebound in commercial lighting investment.
This graph helps to illustrate the point. States shown in green have seen the greatest increase in growth: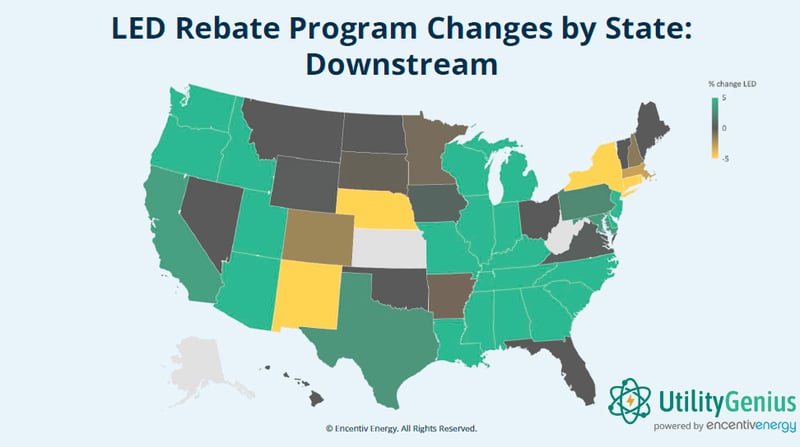 A few things should stand out when you study this map. First, notice that the Northeastern US doesn't seem to be showing much growth? That's not for lack of enthusiasm. Rather, this region has been providing LED rebates for a very long time, leading to widespread adoption. As a result, many utilities in the area are already moving on to push other programs.
But the biggest story revealed by this map is the incredible growth in the South and Midwest. While these regions may not have been the first to adopt rebate programs, there's a lot of momentum right now for commercial LED rebates.
And as the incentives grow, so does the demand from commercial businesses who may have been on the fence about switching to LED lighting. For retrofitters, this demand will mean some big opportunities.


Trend #2: Incentives Paid at the Distributor Level Will Likely Keep Holding Steady
The "midstream" model of lighting rebates refers to programs in which incentives are paid by approved distributors at the point of purchase. For customers, this can be a nice perk — it means they don't have to deal with the paperwork, but still get the incentive.
Despite that advantage, UtilityGenius, powered by Encentiv Energy, reports the last year has seen far less movement for midstream rebate programs. Here's what they found: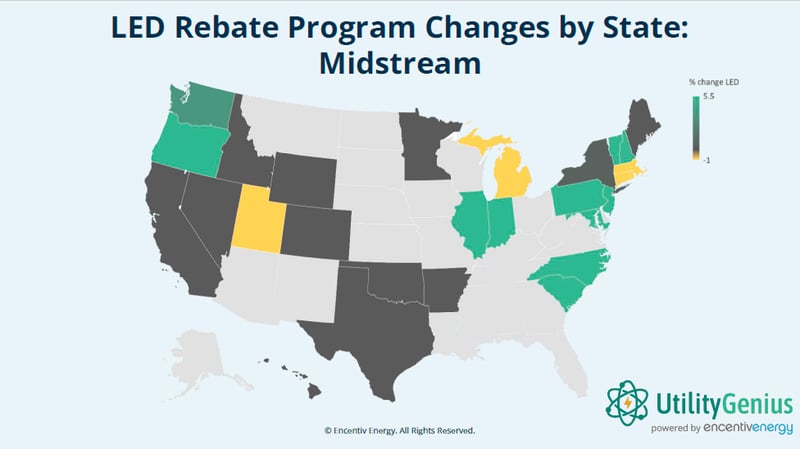 For the most part, states held pretty steady. Those which did show a decline, like Utah, Michigan, and some on east coast states, only showed a slight decrease. Most showed hardly any changes at all.
The big takeaway here? According to Encentiv Energy, this trend is comparable to previous years—when downstream incentives increase, the midstream doesn't change very much. For retrofitters looking for new opportunities, it may make the most sense to stay focused on downstream incentives, at least for now.


Trend #3: The Biggest Rebate Increases Will Be for Large-Scale, Outdoor Lighting
If the first trend of 2023 is a greater investment in commercial lighting projects, then our third trend drills down a bit further to uncover where, specifically, those investments will likely be made. Encentiv Energy's research revealed large-scale, outdoor commercial lighting will be a primary focus.
While it's hard to say definitively what could be causing this trend, there are a few factors in play.
First, commercial utility programs remained largely unscathed by the second phase of the Energy Independence and Security Act (EISA), which was enacted in July 2022. EISA requires all general service lamps to meet the LED standard, which means retailers will have to remove noncompliant bulbs from their shelves by the middle of this year. As a result, utilities won't need incentive programs to motivate consumers to switch, since they really won't have much of a choice.
But while EISA may have some impact on commercial lighting programs, it won't be nearly as dramatic. Utilities looking to incentivize customers to switch to LED lighting will therefore focus most of their efforts on their commercial customers.
Another factor at play is the continued rise of inflation. For an incentive to be effective, it has to entice customers to invest in LED bulbs. If the cost of LEDs rises too high due to inflation, the incentive must also increase. As a result, some commercial LED lighting rebates may grow to compensate for higher prices.
Finally, utilities have done their own research to identify outdoor lighting as one of the biggest opportunities for LED upgrades. Encentiv Energy's research found some of the largest program increases by product were connected directly to outdoor fixtures: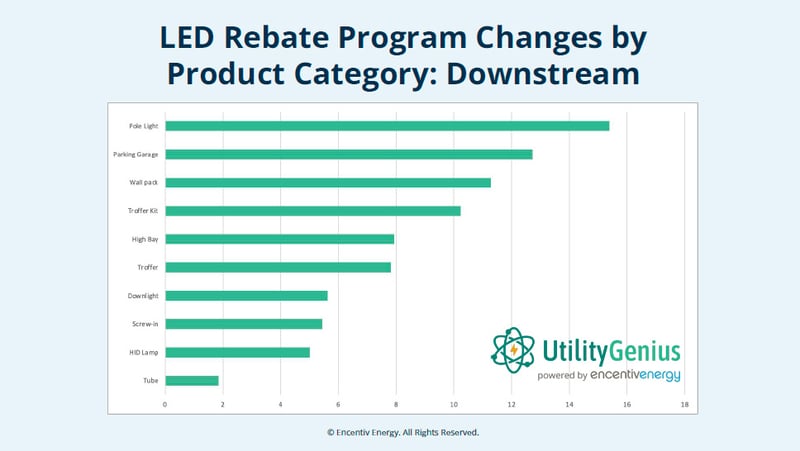 Get Ahead of the Lighting Rebate Trends — and Opportunities
While outdoor commercial lighting probably won't account for all of your business in 2023, it's not a bad idea to prepare to see an increase in outdoor commercial lighting projects. One great place to start is with our industry guides, which take a detailed look at industrial, government, office, and retail LED applications.
You can also use our rebate finder to identify incentives related to your next commercial LED lighting project. Sort by state, product, and category to find the rebates that will help your customers save. While the rebates themselves may change every year, when you know what trends are shaping the programs you can help your business prepared.