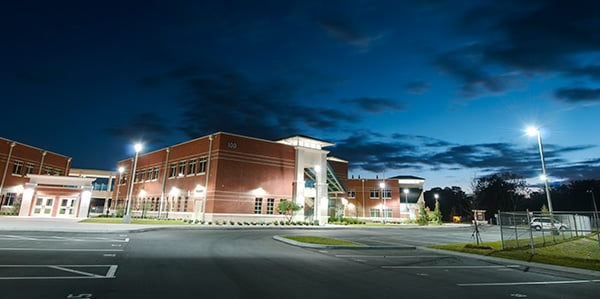 When you think about lighting for public institutions like schools and hospitals, your first instinct might be to imagine interior fixtures. After all, kids need good light to learn, and patients show better outcomes when their circadian rhythms are supported by lighting.
But the story doesn't end there. Public institutions and the people they serve can also benefit greatly from outdoor LED lights.
To understand how, let's look at the unique considerations at play for these institutions and how outdoor lighting design can help make a big difference.
Why do public institutions need special consideration for outdoor LED lighting?
Outdoor lighting is important wherever people are gathered, whether it's a private parking lot or outside an industrial building.
So why do public institutions need special consideration beyond what you might give to any other outdoor project?
Much of it comes down to the people they serve. Many public institutions work with vulnerable populations, and it's especially important for them to create safe outdoor spaces. For schools, outdoor lighting can help keep children safe and help them avoid scrapes, falls, and other injuries. For hospitals, outdoor lighting can help patients — many who might have mobility issues — navigate sidewalks and parking lots without putting themselves at greater risk.
Another reason public institutions need special consideration is that they can be very cost-conscious. Schools and hospitals often work on tight budgets, and if they're going to undertake an outdoor lighting project, they want to be sure it's a wise financial decision. This can make the ROI of LED lighting especially appealing to these institutions.
If you're working on an outdoor LED lighting project for a public institution, you'll also want to be mindful of how they're using the space. What kind of outdoor activities do you need to account for? If the goal is to create a safer environment, what hazards does lighting address? This may also be a good time to familiarize yourself with the Illuminating Engineering Society's outdoor lighting standards, which includes recommended light levels for specific outdoor activities.
Finally, you'll need to be sensitive to issues like eye fatigue, headaches, and other conditions that can be aggravated by ill-considered light placement. These and other factors should play a role in the way you approach the design.

How to Approach Lighting Design for Outdoor Public Spaces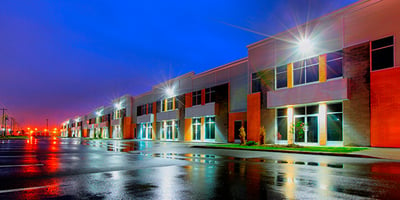 When you're designing an outdoor lighting system, you'll need to consider attributes like the task and function of the light fixtures. Depending on the need, outdoor lighting could range from illuminating activities on school campuses or grounds to enhancing the look of building architecture, university sculptures, or landscaping.
The same is true for hospitals — you'll need to know whether you're designing for function, aesthetics, or some combination of both.
At the same time, your design should avoid creating light pollution and obtrusive lighting. Many manufacturers now publish ratings around backlight, uplight, and glare (BUG) metrics for their fixtures, which can help you avoid light trespass and unwanted sky glow. While it should always be your goal to avoid unnecessary light pollution, in some instances there are legal reasons to be especially careful. Many states have now instituted "dark sky" legislation to reduce light pollution and promote energy conservation. These ordinances may be statewide, or they may be localized to areas around observatories, military bases, and airport operations.
There are even ordinances in coastal areas that restrict outdoor lighting near sea turtle habitats. While such laws may not be particular to public institutions, they're still important to keep in mind as you design your LED lighting project.


A New World of Customizable Outdoor LED Lighting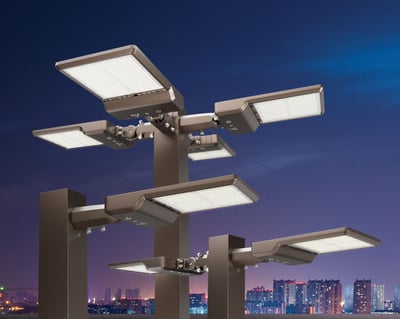 If all these ordinances and regulations seem discouraging, there is some good news: The advent of selectable color and wattage options in LED lighting, along with the use of advanced controls for dimming, daylight sensing, and motion detection, means it's easy to design outdoor lighting systems for public institutions that will meet code requirements.
If you aren't already familiar, we do recommend reviewing both the ASHRAE and IECC codes and standards. This will help you begin the design phase of your project with a clear grasp of the regulations you'll need to follow.
Fortunately, these standards don't need to stand in opposition with your ultimate goal of creating an outdoor LED lighting project that promotes health and safety for public institutions.
LED outdoor flood lights and area lights from Litetronics are now so advanced and easily customizable that you can still accomplish your goals while following code. That makes these products the perfect choice when you're designing outdoor lighting for public institutions, no matter their needs.
Schools and hospitals alike are charged with protecting the health and safety of the people they serve. They are also tasked with being good stewards of the funds that make their work possible. Outdoor LED lighting helps them do both.