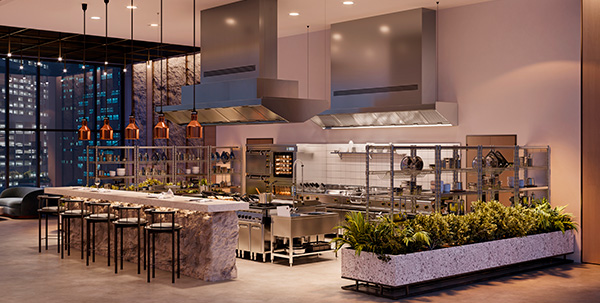 Choosing the right bar and restaurant lighting is about more than setting the mood. Good LED light fixtures can help venues use less energy while saving money. It can also keep staff and patrons safe, and even reduce the risk of foodborne illness.
Whether you're about to break ground on new construction or you're selling a retrofit to an existing location, now is the perfect time to consider the benefits of using LED lighting in bars and restaurants.
Let's take a closer look at some of the reasons.
What to Consider While Choosing LED Lighting for Bars and Restaurants
Selecting the right bar or restaurant light fixtures can be a complicated process. The amount of illumination the dining room needs can shift and change through the course of the day. Meanwhile, kitchen and wait staff will always need clear, reliable light to do their work safely. As a result, lighting projects for restaurants and bars will involve a lot of questions around what is needed from their lighting systems.
LEDs offer a great option for any application, thanks both to their versatility and their great ROI. But for bars and restaurants in particular, there are some very good reasons to install LEDs.
LED Lighting Helps Keep Diners, Guests, and Employees Safe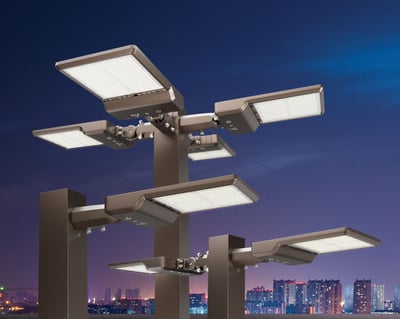 People visit bars and restaurants to relax and have a nice time. They shouldn't be worried about safety. But poorly lit parking lots, washrooms, or walkways can all pose different potential hazards that make people less safe. LED lights offer a versatile outdoor solution, and can also be a great option to brighten up high traffic areas inside a bar or restaurant to minimize the chance of an accident.
It's also great for employees. In busy kitchens and bars, wait staff need to be able to be able to see what they're doing and where they're going, especially when they've got their hands full with plates and drinks. They'll also feel much safer leaving after a late shift if the parking lot is brightly lit by outdoor LEDs.
Another unexpected benefit of LED lighting is that it also helps keep food safe. By installing shatterproof LED fixtures, restaurants and bars can help make sure that there's no chance of glass breaking and contaminating food. Selecting LEDs with a high CRI rating also helps kitchen staff get a clear look at the food without the lights affecting the color. If something is undercooked, off-color, or starting to mold, the right lighting can help ensure it never makes it out of the kitchen.
Customizable LED Lighting Can Be Adapted to the Needs of Bars and Restaurants
One of the great things about commercial LED lighting is that it offers a tremendous amount of customization for your bar and restaurant projects. You can select LEDs for their brightness, color temperature, and CRI rating to make sure they create the right ambience for the venue.
And this flexibility can pay off in other ways, too. If you're working on a bar or restaurant that gets a lot of natural light during certain times of the day, you can install adjustable LED lighting that can be turned up or down to compensate. You can even use smart technology to make these adjustments automatic throughout the day.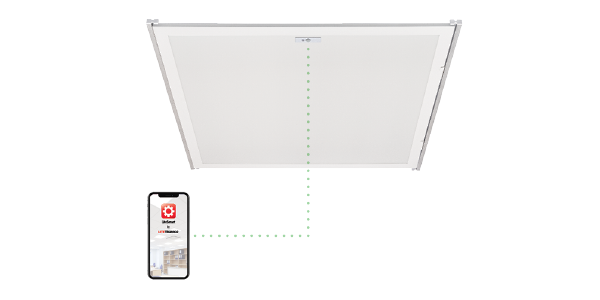 All this also means a better ROI for your client. Besides the fact that LED lighting uses less energy to begin with, customizing and automating bar and restaurant lighting helps those savings compound. It's a great example of how LED technology and advanced features combine to deliver the best value for your clients.
LED Lighting in Bars and Restaurants Requires Less Maintenance
In 2020, the restaurant industry finished the year far short ($240 billion short, to be precise) of pre-pandemic estimates. After such a severe blow to their bottom line, many are still feeling the effects — and searching for ways to save money and time.

For cash-strapped, short-staffed bars and restaurants, the fact that LED lighting requires less maintenance is a real benefit. There are fewer interruptions, fewer bulbs to change, and the cost savings puts a little extra money back in their pockets.
They can also save some money up front, too. Thanks to the many rebates and incentives on offer, your clients can actually get paid to make the switch to LEDs. How's that for a worry-free solution?
Why Work with Litetronics?
As recognized leaders in commercial lighting solutions, we provide the expertise and the product lineup to help realize your vision. We have a complete array of retrofit kits as well as fixtures to upgrade your systems. To learn more about what we offer, reach out to us today.