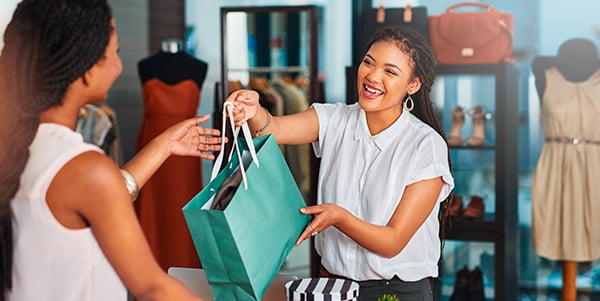 Though the pandemic took a heavy toll on retailers, the industry is well on the way to recovery. By the end of 2022, consumers were returning to pre-pandemic shopping patterns.
But that doesn't mean everything is exactly the way it once was. New consumer shopping habits have emerged, and retailers are hoping to capitalize on developments like curbside pickup and "buy online, pick up in-store" (BOPIS). Hybrid concepts like stores-within-stores are also leading to some retailers reinventing their operations.
All this change is causing many retailers to initiate remodels and new construction projects. For retrofitters, it's the perfect time to sell retailers on LED lighting.
For retailers keen to provide their returning customers with a memorable shopping experience, LEDs are a powerful tool.
Here's what you — and your customers — will need to know.
Outdoor LED Lighting Helps Make Retail Shoppers Feel Safe
The customer experience begins well before shoppers ever set foot inside a store. If retail customers pull into a parking lot that looks dark and unsafe, or they have to find their way along dimly lit sidewalks, it can leave them with negative feelings about the retailer or even discourage them from shopping entirely.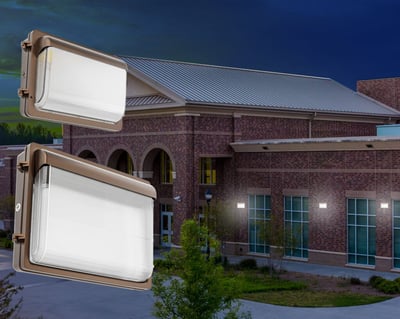 One of the best ways to improve their experience? Outdoor LED lighting. These LEDs are a versatile solution that can illuminate any outdoor space, including wall packs that can brighten up sidewalks and LED area lights that are an excellent choice to illuminate parking lots.
And because LEDs are less expensive to operate, retailers can affordably install as many as they need to create safer, more navigable spaces. All these factors make outdoor LEDs an important piece of the puzzle for creating a great customer experience.
LED Luminaires Brighten Entryways and Retail Displays
Of course, it's not enough for retailers to attract shoppers. Those shoppers also need to stick around and buy something. Yet data reveals that nearly two-thirds of retail shoppers have left a store without making a purchase because they didn't like how the store looked.
Lighting can play a big role in the appearance of stores, and LED luminaires are a great way to help retailers make a great first impression. These overhead fixtures are ideal for brightening up entryways or illuminating high-traffic paths. And since they come in a variety of different shapes and sizes, retailers can select the fixtures that best suit their unique store aesthetics.
Luminaires can also be used to attract attention to special displays. In-store marketing displays are a make-or-break arena in retail: Good ones can draw the eye to special promotions or seasonal items and help drive more sales. But a display that's poorly lit can end up ignored, no matter how well it's designed. These displays aren't free, either — retailers spend big money on their design and installation. You can help them make the most of their investment by highlighting displays with LED fixtures.
Use LEDs With a High CRI-Rating to Bring Out the Best in Retail Environments
Whether you've bought a shirt or a sofa, it's not a great experience to get home and realize the lighting in the store misled you about the item's real color.
This problem is typically caused by in-store lighting with a low CRI rating. Clear, bright light, on the other hand — like what you get with high CRI rated LED bulbs — reduces the chances of buyer's remorse … and returns.
Here's a quick cheat-sheet on how to use lighting with these different ratings.
| | |
| --- | --- |
| CRI Rating | When to Use This Kind of Lighting |
| 90 – 100 | The highest CRI rating offers the best vibrancy and color. This kind of lighting is mandatory for art galleries, museums, high-end retail stores, and color-critical applications such as paint, fabric, and upholstery. |
| 80 | This is a typical CRI rating for industrial and commercial spaces, where it may not be necessary to bring out every small nuance in color. |
| 70 | For industrial spaces, this CRI rating might not be ideal, but it's still within an acceptable range. |
| 60 and below | Once a CRI rating reaches this level, it's no longer suitable for almost any application. It can even pose safety hazards for workers, as it can cause them to struggle with poor visibility. |

LED Lighting Is Also a Great Deal for Retailers
While it's clear that LED lights can do a lot to improve the retail customer experience, that's far from the only selling point for retailers. As you know, LED lighting fixtures don't require as much fussing or maintenance over changing the bulbs. This is particularly important in a retail environment, when burned-out lights or frequent bulb changes can be disruptive to the shoppers who are just trying to buy groceries — or try on pants.
And for retailers undertaking a retrofit project, there are rebates that offer financial incentives when they switch to LED lighting. When retailers adopt LEDs, those incentives can go a long way to sweeten the pot and increase the return on investment.
While retailers are still learning what consumers expect post-pandemic, it's clear that customer experience is key. LEDs are an important piece of the puzzle, and one that benefits retailers and shoppers alike.