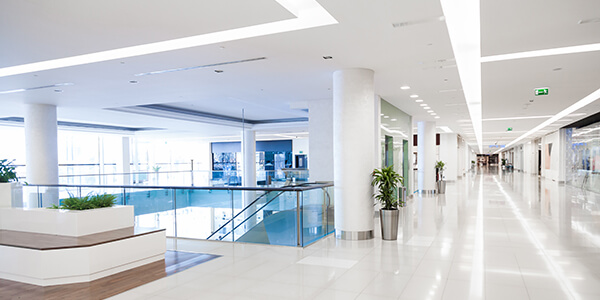 Many utilities in the U.S. require that LED lights be Design Lights Consortium (DLC) approved to qualify for energy conservation incentive programs. These DLC lighting standards encourage the lighting industry to aim toward continuous improvement in energy efficiency and light quality.
Keeping up with the changes in these standards is critical, as they can have a major effect on the rebates for which your projects qualify. That's why Litetronics monitors DLC updates to make sure your projects (and our product line!) qualify for more rebates.
We've put together this summary of the latest DLC requirements. This can help you get the best rebates for your customers and ultimately, win more deals.
How Have DLC Lighting Standards Changed in the Last Year?
Two sets of DLC lighting requirements were introduced in 2020. DLC V5.0 contains new requirements for efficacy. V5.1 adds quality of light requirements, including spectral quality and glare, and controllability.
The V5.0 and V5.1 DLC standards were released in February 2020. The delisting of products that didn't meet V5.0 standards began in February 2021, and the delisting of products that don't meet V5.1 standards will begin in December 2021.
Any product that already met the V5.0 requirements was automatically certified. Because of this change, about 78% of the DLC product list is already V5.0 certified.
For Litetronics, 99% of our product line was automatically certified by meeting the V5.0 requirements. And we are currently working to ensure all of our products meet the V5.1 standards by the end of 2021.
DLC V5.0 – Efficacy Requirements
According to the DLC, V5.0 "lays the groundwork to capture and promote continuing advances in energy-efficient technology."
The DLC's goals for the new requirements introduced with V5.0 are:

Here are highlights of the efficacy requirement changes in V5.0:
Energy Efficiency: With V5.0 the DLC Standard minimum efficacy requirements increased an average of 12% over V4.4. The DLC Premium rating is a flat 15 lumen per watt increase over the Standard requirement.
Dimming: In previous DLC standards, a lighting fixture had to be dimmable to be designated as Premium. As of V5.0, dimming is required to receive both Standard and Premium designations.
You can review the full V5.0 Standards on the DLC site.
DLC V5.1 Technical Requirements
V5.1 builds on V5.0 and includes additional metrics around quality of light and controllability. The DLC goals for V5.1 are:

Spectral Quality. The requirements now introduce Color Maintenance for qualification, improved Correlated Color Temperature consistency for a Premium designation, and set new efficacy allowances for great color, among other updates.
Light Distribution and Glare. The requirements address beam angle and add a Unified Glare Rating (UGR).
Dimmability is redefined as containing a dimmable driver. Or, as a light that can be dimmed by external control signal and is specified as dimmable.
You can review the full V5.1 Standards on the DLC site.
Why Choose DLC Certified LED Lights?
When you're pitching an energy efficient lighting project to a customer, you know they'll be focused on the available utility rebates.
Between 70 - 85% of rebates require that a product is DLC listed in order to get a rebate.
DLC certification isn't just for show. According to BriteSwitch's RebatePro tool, "between 70 - 85% of rebates require that a product is DLC listed in order to get a rebate." Customers will definitely appreciate you selecting products that maximize their rebate dollars.
Here are more benefits that can help you make the sale:
Product Quality. DLC approved products have been tested and verified. They meet the highest industry standards for quality and efficiency. That will give the customer peace of mind about having these LED lighting fixtures in their facility.
Better Lighting Quality. DLC listed products meet specifications for color rendering, light distribution, and glare. These all result in a better user experience. In fact, the right lighting can even contribute to employee safety, productivity, and end-product quality.
Energy efficiency. DLC certified LED lighting fixtures offer higher lumens per watt (LPW). The higher the LPW, the more energy is converted into actual output. Customers will like hearing they are getting the most lighting bang for their energy buck.
Product Value. A customer may ask why they should choose a more expensive DLC rated product over a cheaper product. It's usually not difficult to get them to understand that a cheaper light won't be eligible for top rebates, it may not last as long, it could require more maintenance, and it may not deliver an optimal user experience.
At Litetronics, we keep a close eye on DLC's standards. As new requirements are announced, we review our entire product portfolio to make sure everything is up to speed. That means customers, contractors, and ESCOs using our products know they meet the top industry requirements and qualify for the best rebates.
Need to know more about DLC lighting standards and Litetronics products? Connect with a local sales rep today!