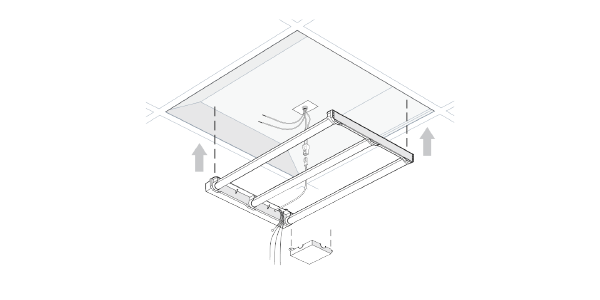 Lighting technology is always evolving in exciting ways, and that's presenting facility owners with a problem: Do they need to upgrade their entire lighting system to take advantage of incredible new lighting features?
The answer, happily, is no. Facility owners can often achieve the same benefits by upgrading select parts of their current lighting system with LED retrofit lighting kits.
Here are some things every lighting contractor should know – and convey to clients – when deciding which LED retrofit lighting kit to purchase.
With LED Retrofit Kits, Cheaper Isn't Lower Quality
Customers may come to you believing that the only way to get the energy savings and improved light quality they want is to replace their current lights with all new LED fixtures.
Obviously, this is a great time to tell them about LED retrofit kits. But while they might be interested in hearing about a lower cost option, they may still wonder: "I'm paying less, but am I getting less, too?"
You can explain that if the existing fixtures are in good condition, retrofit kits are a true "less is more" opportunity. In addition to a lower cost per fixture, the lighting will be brighter as well.
Well-Designed Retrofit Kits Install Faster and Easier
Customers and retrofitters agree: Faster is better when it comes to the LED installation process. From the customer's point of view, faster installation means fewer disruptions to their operations. And for retrofit companies, a speedy install can mean lower labor costs and faster cash flow if they can invoice completed projects sooner.
The key, however, is to choose a well-designed retrofit kit that makes installation simple and secure.
For example, some early LED arrays were secured in place with double-stick tape. While that made for a quick install, the tape would get soft over time and the LEDs could fall down against the lens. Other retrofit kits demand as many as eight screws to secure. That's a lot of time per fixture for the installer, and with a clear lens, the LED arrays are visible. If the screws aren't fastened in a straight line, it looks bad … not the impression you want to leave with the customer.
Magnetic retrofit kits, first developed by Litetronics, were a big breakthrough. The LED array can be quickly and easily clicked into place and slid into perfect alignment. The result? A huge time-savings for the installer, fixtures that are secure for the long term, and a much faster project that will please the customer.
When time is of the essence, magnetic retrofit kits are a solution that makes installation simple and successful.
Another time advantage of retrofitting versus replacing fixtures is that less time needs to be spent disposing of the waste. When you change out a fixture, the job of disposing of it falls to you, as does the cost if you're taking it to a landfill. Multiply that times the number of fixtures replaced, and the extra time and cost adds up and can impact your profit. With retrofits, minimal waste is generated.
When time is of the essence, magnetic retrofit kits are a solution that makes installation simple and successful.
Retrofit Kits Can Be Smart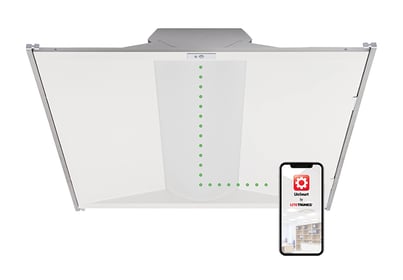 Customers may assume they need a whole new fixture to get controls that make LEDS even more energy efficient and adaptable to how the space is used.
Fortunately, that's not the case. Retrofit kits can come equipped with new technologies that stretch energy savings even further:
More and more states are adopting energy standards to ensure commercial facilities take advantage of daylight harvesting to reduce the need for interior lights during sunlit hours. Any added cost for a retrofit kit with this technology would be more than paid for with lower energy costs.
The same is true for occupancy sensing. Once you let your customers know this is available, they will most likely be able to identify a whole list of spaces that are suited for "only when in use" lighting, such as stairwells, storage areas, copy and break rooms, warehouses, conference rooms and many more.
Retrofit Kits Can Fit Existing Fixtures Perfectly
It may seem obvious, but one of the most important qualities in a retrofit kit is that it fits the existing fixture. You'll want to have plenty of kit sizes to be sure you can adapt any fixture you come across. Litetronics offers retrofit kits that are made to replace one lamp, two lamp, three lamp or four lamp fixtures.
You'll also want options to match or improve the look of the space. We offer kits to replace standard fluorescent or strip lights, an LED light panel that is a fluorescent troffer replacement, and a volumetric fluorescent troffer replacement with an architectural look. We even offer a backup power unit than can convert any LED retrofit into an emergency light.
The Litetronics LED Magnetic Retrofit kits come with magnetic installation and can be put up in minutes in just four easy steps:
Remove the existing bulbs and ballast.
Magnetically attach the magnetic retrofit.
Connect power via wiring quick connector.
Close up the fixture and restore power.
Affordable, high quality, speedy to install, equipped with smart technology, and made to fit most any fixture – Litetronics retrofit kits can help any retrofit company operate more efficiently and make their customers thrilled with their projects.
Looking for other options to streamline your lighting business? You'll find smart solutions in our e-book, Profit-Draining Problems That Show Your Business Down.

By: Dan Chainey, Outside Sales, Idaho Lighting Solutions