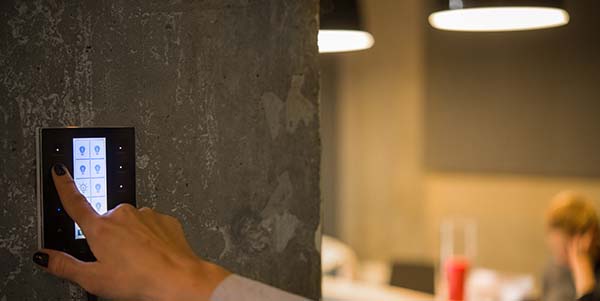 When you're busy focusing on what's right in front of you, it can be difficult to see what's coming down the road.
As we all know, a busy schedule can eat into any time devoted to staying on top of industry trends. And even if you do find time, you might struggle to discern which trends will stick around and are worth investing in, and which ones are just a flash in the pan.
In this article, we'll quickly get you up to speed on the three LED lighting trends. You'll discover the opportunity, what challenges you might face, and how to best position yourself for success.
Lighting Controls
Opportunity
Owners are looking for better options in energy savings and occupant experience, which has heightened awareness and interest in advanced lighting controls.
From occupancy sensing to scheduling to daylight harvesting, controls transform lighting from the simple binary of on-off to more versatile and flexible systems that adapt to the use of commercial spaces.
Challenge
These kinds of projects are more complicated than a standard install. For example, in something like a campus setting there may be fire alarms, security, daylight harvesting, and building management that all need to get integrated into the controls of the overall building management platform.
Without clear communication, however, it can be a significant challenge for the client to get exactly what they need and for the solution to work seamlessly. And all too often, communication is passed down from the owner instead of allowing all key stakeholders to hear the problem from the source (and ask important questions).
As a result, the owner may not fully understand the features and value of what they've been sold, leading to underutilization and a feeling of being oversold. Or the solutions offered don't fully solve their pain points, because there wasn't enough clear communication in the early stages of the project.
Recommendations
Because lighting controls are complex, expectations must be established to make sure the owner's needs are met.
Clear communication up front can ensure everyone involved in the project fully understands the pain points that need to be solved and the bottom line in project outcomes the owner is expecting. For the best odds of success, arrive with a list of common pain points, considerations and questions to ask. That laundry list can help you and the owner figure out if the proposed system will solve their problems and provide lasting value.
The result? A much more useful controls solution and a happier customer.
Tunable Lighting
Opportunity
There's increasing demand for tunable lighting as people warm to the idea of using commercial lighting as a tool to improve productivity and well-being, especially in health care and education settings.
If you're not already getting requests from customers for tunable lighting, you will. That's because tunable lighting, which can be programmed to mimic the color temperature and brightness levels of the sun throughout the day, are based on what's best for the human body and employee productivity.
Challenge
Tunable lighting works optimally when it is fully automated, as it subtly and gradually changes the intensity and color of the light as the sun would as it rises and sets.
However, that automation is expensive, so clients may shy away from it, figuring they can just control it manually and adjust it throughout the day. And unfortunately, when that happens, the benefits are nowhere near as pronounced.
Recommendations
While studies have shown the powerful effects of light on the human brain (the International WELL Building Institute has a helpful section on lighting that provides an excellent summary of the science on this), the client may be leery of investing in a proper tunable lighting system.
That's why it's so important for customers to understand that lighting options that only offer manual adjustment, while cheaper, will not give them the full benefits of the technology. In this situation, it's best to make certain you can clearly explain the science and benefits underpinning tunable lighting.
Once you've taken the time to understand the owner's pain points and clearly explained the benefits and costs, they may decide that a simpler option is a better fit for their goals and budget.
That said, keep an eye on this technology. LED manufacturers are watching this trend and as the technology becomes more in demand, pressure will increase to reduce prices.
Virus and Bacterial Mitigation
Opportunity
The pandemic put disinfection on everybody's mind, leading to increased demand (and a flood of new products) for lighting that mitigates viruses and/or bacteria.
Ultraviolet germicidal irradiation, or UVGI, uses ultraviolet UV-C radiation to kill viral, bacterial, and fungal organisms. LEDs Magazine reported that "market analysts, even prior to COVID-19, predicted a UV LED market exceeding $1 billion in a few years."
In the early days of the pandemic, there was a huge jump in interest in UV-C LED lights among organizations looking for viral and bacterial mitigation. This was especially true when it was widely thought the virus could be transmitted through contact with infected surfaces.
Challenge
While interest in UV-C LED technology for COVID mitigation is high right now, that interest may wane as the pandemic (eventually) does. In the meantime, lighting and HVAC manufacturers are in a space race to see whose solution will come to dominate the market. But because some of this technology is still nascent, rebates are thin on the ground, making this type of lighting a strain for many clients' budgets.
Recommendation
In this situation, the best approach is to stay on top of things. Be aware of how this technology works and why it can benefit customers, but also keep an eye out for any new rebates or lowering in prices…once this technology becomes more affordable, it may become a more viable option, even post-COVID.
Lower Energy Costs Never Go Out of Style
Knowledge and communication are the two most important elements when introducing emerging LED technologies in a way that inspires confidence and wins repeat business. Understanding the needs and expectations of the ultimate decision maker will help you align product and price. And a collaborative and consultative approach will get you there.