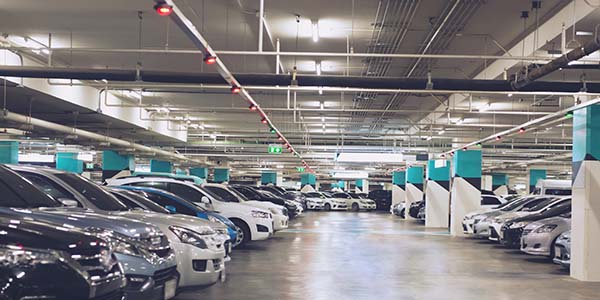 Parking garages can be overlooked in evaluating commercial facilities for an LED lighting upgrade.
But as it turns out, garages are excellent candidates for the improved safety and reduced energy costs that LEDs can offer.
In this article, we'll cover what you need consider when designing garage lighting, the options available in LED fixtures for garages and how to communicate the safety and savings value of LEDs to customers.
Parking Garage Lighting – What's Required?
When you think about it, parking garages create unique challenges when it comes to creating a safe environment: There are tight spaces, gasoline-powered vehicles, and pedestrians and cars sharing the same space. Plus, these spaces are often used at all hours.
For that reason, many local jurisdictions have their own regulations that pertain to lighting within a parking structure. Before starting any project, you should check if there are local codes you'll need to follow.
On a broader level, organizations like the National Fire Protection Association and the International Building Code (IBC) have set overall standards for parking structures, which includes lighting. The U.S. Department of Energy's Parking Structure Lighting Guide is another helpful resource for designing an energy efficient and safe LED lighting solution.
Additionally, the Illuminating Engineering Society of North America (IES) also makes recommendations for parking garage lighting levels: "A low light level for basic parking areas and higher light levels for ramps and higher still for entrance areas. Additionally, since most parking garages are lighted 18+ hours per day, ramps and entrance areas should have even higher light levels during daylight hours to help the eye adapt from bright sunshine to the darker interior of the parking structure, or vice versa."
The Risk of Poorly Lit Parking Facilities
Obviously, you'll be up to speed on all the regulatory and code requirements so you can assure the customer the parking structure will be safe and in compliance regarding lighting.
This focus on safety, however, is not simply academic.
Many current parking garages have dim or poor lighting. This has a significant impact on the actual and perceived safety of those using the garage. Shadowy stairwells or passageways can be significant trip and fall hazards.
And more alarmingly, large gaps between lighting fixtures or narrow lighting lanes with large shadowy areas could allow potential criminals to hide. In fact, FBI reports show parking structures and lots are the third most common site of murders and assaults in the U.S. In 2020, the Milwaukee Journal Sentinel reported on a rash of crimes and dangers taking place in poorly lit parking garages.
In many cases, low lighting in parking garages is the result of developers, planners and garage owners attempting to save on costs.
This is another reason why garages are such a golden opportunity for retrofitters: Upgrading to LED lighting is an ideal way for garage owners to improve lighting quality and safety while lowering their energy expenses.
Upgrading to LED lighting is an ideal way for garage owners to improve lighting quality and safety while lowering their energy expenses.
Options for Parking Garage Lighting
Different garage configurations are suitable for certain fixture types. You'll need to consider beam angles, light distribution patterns, and wattages to ensure an ideal lighting solution.
While each parking garage is unique, there are a few products that are a good fit for most garage lighting projects: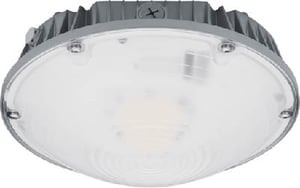 LED Garage Light: These fixtures, designed specifically for parking garages, can be surface or pendant mounted to fit the application. They also offer the durability and energy saving features that best optimize this sort of environment.
Vapor Tight Slim Strip These LED fixtures are built to operate in harsh environments where cold temperatures or wet conditions exist. They can be connected for a continuous run of fixtures from one power source, and at only 1.5" in diameter, can fit into small spaces for long narrow garages.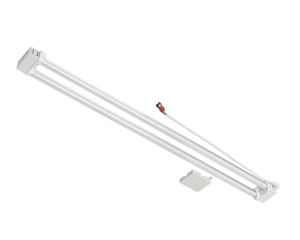 1x4 LED Magnetic Retrofit Kit As a replacement for existing fluorescent tubes, this one-piece, damp location rated retrofit installs quickly and easily using the current housing, converting fluorescent fixtures to LED in just minutes.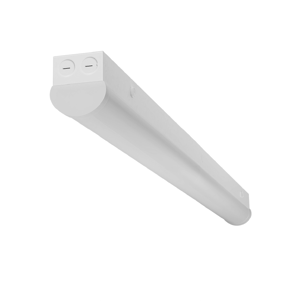 Stairwell fixture: Most parking garages have stairwells for everyday access and emergency egress, but they are not always high traffic areas. This sensor-equipped strip fixture enables both occupancy and daylight sensing to provide the right amount of light when it's needed.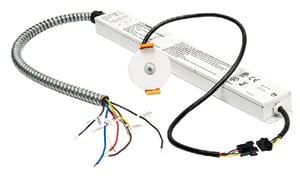 Emergency Battery Backup: Like interior spaces, parking garages need to provide clear and safe egress paths in case of an emergency. Adding backup batteries to LED lights provides 90 minutes of well-lit access to exits, ensuring safety in times it's needed most.
All these LED fixture options offer long term efficiency and reduced maintenance. They are also well suited for use in environments like parking garages that are subject to moisture, wind and large fluctuations in temperature. Litetronics' fixtures are designed for durability, using polycarbonate lenses (which are 10X stronger than glass or plastic) and are IP rated for protection against dust and moisture.
Finally, switching to LEDs and/or adding fixtures won't add a maintenance burden to facility staff. Plus, with a minimum 5-year warranty and a 50,000-hour-rated life (many products have even higher warranties), Litetronics LED lights won't demand frequent service trips to the parking structure.
Controls and Sensors Add Safety and Savings
Controls and sensors offer incredible value in parking facilities, improving safety while making the savings even more impressive.
Parking garages are perfect opportunities to incorporate controls such as motion sensors and daylight harvesting.
Parking garages are perfect opportunities to incorporate controls such as motion sensors and daylight harvesting. In some garages, especially around the perimeter where there is daylight, the fixture output/wattage can be greatly reduced by utilizing daylight harvesting.
Motion or occupancy sensors are ideal to maximize system efficiency since sensors can be programmed to dim to a reduced level when no vehicles or pedestrians are present. Setting a wide detection range will ensure the fixtures come on to full/target brightness well before the car or pedestrian arrives at the fixture itself, creating bright, shadow-free and safer lighting.
Design Considerations
Lighting a parking structure involves more than just installing high-efficiency equipment and some smart controls or sensors. Several choices need to be made regarding the lighting and the desired results, including:
Color Quality – The color of the lighting and how things appear in the space matters as much as the amount and types of lighting in the space. (Litetronics products offer adjustable color temperature so you can tune the light color to the needs of the space.)
Light Distribution – Distribution determines the direction and intensity of the light leaving the luminaire. This is important to avoid the "cave effect" that can happen when the fixture illumination shines straight down with no surrounding "glow" or up- Even a modest amount of up-light shining on the ceiling or angling out from the fixture avoids a completely dark canopy or cave effect.
Mounting Height - It is critical to confirm the maximum lowest clearance of the garage fixtures and allowable vehicle heights. The mounting height should not extend below the actual clearance level of the garage structure itself.
Power Connections - When mounting/installing, the right garage fixture selection should include considerations of junction box locations, electrical service access, raceway/conduit, etc.
Driving Home the Value of LED Lighting as Parking Garage Lights
Parking garages can contain as much (or more) square footage as the facilities they serve. That's a lot of space to light and plenty of considerations to juggle.
It's important that the customer knows that LEDs can deliver both the safety and savings they want, especially when you combine well-designed fixtures that are fast and easy to install with clever automation that boosts efficiency.
Ready to offer your customer years of high-quality, maintenance-free lighting and more inviting, pedestrian-friendly environments in their parking garages? Reach out to one of our helpful sales folks for more information.