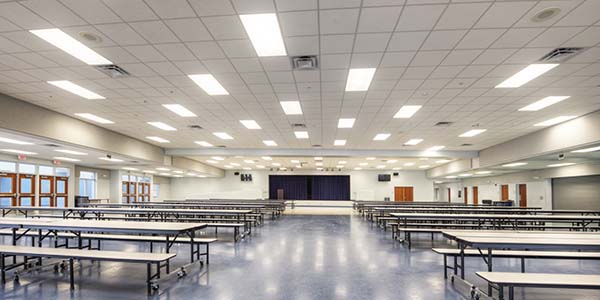 There are certain essentials in a learning environment, and good lighting is one of them.
Schools are a prime candidate for the features and benefits LED technology offers. Upgraded lighting in schools is a win for everyone – teachers, students, facilities managers, district administrators and visitors like parents or contractors.
To make the sale though, you'll need to build an airtight case. Here's how.
What's Different About Working With a School?
If you thought having to ask for a hall pass to go to the restroom was an extra hurdle, wait until you need approval to get a school lighting project off the ground.
There's a reason why projects in school buildings tend to have a longer sales cycle. You may have to deal with committees at the school and district level as well as other stakeholders like parent groups and facility managers. It could take some time to get everyone on the same page to move forward.
Usually, the lighting upgrade is just one piece of a larger energy conservation project managed by an ESCO. In this case, all the components may need to be approved before a lighting upgrade can begin.
But your patience is likely to pay off. Word travels between schools and districts, and reports of your good performance can earn you referrals and more business.
Who Benefits From Switching to LED Lighting in Schools?
Students
Everyone is in favor of creating the best possible learning environment for students. Optimal lighting plays a more important role than most realize.
Studies have shown a typical U.S. student spends 8,884 hours over nine years to complete primary and lower secondary education. A paper presented at the 5th International Conference on Smart Learning Ecosystems and Regional Development assessed that classroom lighting does affect cognition and that LED lighting appears to be the most suitable to improve psychological and cognitive processes in the classroom.
A study by Advances in Pediatric Research found that higher correlated color temperature positively impacts alertness, attitude and energy level. The findings also showed that the ability to change light levels throughout the school day can positively impact student engagement and mood.
Teachers
Teachers use every option available to create the optimum learning environment for their students.
Any lighting solution that improves attention, mood and energy (as cited above) will be appreciated by teachers. But they prefer lighting systems that aren't complicated to manage.
Lighting control is especially necessary in hybrid teaching instruction as projectors and other displays are in use. A control switch that allows a teacher to control their classroom 'world' with dimming and scene lighting (and at the touch of a button with no disruption) will be hugely beneficial.
Facilities Managers
Lighting the variety of environments in a school is also a concern for facility managers. From the median elementary school at 84,700 square feet to the median high school at 173,727 square feet, schools are large facilities that require plenty of fixtures.
Bright light is needed for classwork. Lighting for a gym's high ceilings must be powerful enough to prevent accidents. And library lighting needs to be comfortable for studying and for computer work. And we haven't even talked about places like labs, music rooms, auditoriums, cafeterias or the multitude of other spaces in today's schools.
All those lights are also expected to be functioning at full capacity. Facility managers transitioning from older fluorescent fixtures will recognize the value of LED lights that require less maintenance and come with extended lifespans and 10-year warranties. No more running around trying to find the right size and color fluorescent tube while a whole classroom waits.
School Districts
The district will be focused on the financial picture and achieving energy savings and economies of scale for multiple schools. That's why they often prefer to work with an ESCO that can handle an overall energy conservation effort for lighting, HVAC, etc.
In addition to baseline savings districts can expect from upgrading to LEDs, they will also appreciate the impact of smart lighting features on electricity costs. Occupancy sensors can address lights left burning in empty classrooms or cafeterias, while daylight harvesting sensors can decrease the need for full interior lights during the brightest hours of the day. And, where these features work automatically, schools don't have to depend on any action by staff or students to help them lower energy costs.
The district will also be aware of the bottom line in ongoing facility maintenance costs. The prospect of having 'install it and forget it' LED fixtures will be a big bonus.
Lighting Options for Schools
Lighting Replacement vs. Retrofit
When only looking at fixture price, schools may think replacement is the better idea. But that doesn't account for the associated costs.
For instance, if the installers don't have to go into the ceiling plenum to haul out an old fixture, they don't have to worry about exposing the school environment to hazards (old school facilities are notorious for having asbestos insulation.)
Then, there is disposing of the old fixture. Recycling would be required—and recycling an old metal troffer can be expensive when you're talking thousands of them in a school.
For most schools, if they are not in the process of a new build, a retrofit is a smart option to consider. While some think replacement is faster (historically, retrofits were difficult to install), that's not always the case. Litetronics pioneered the magnetic retrofit which can be installed in minutes.
LED Volumetric Retrofit
Offering top-of-the-line efficiency with a sophisticated look and quick installation process, this LED troffer retrofit is the ideal solution for outdated fluorescent fixtures.
LED Light Panel Retrofit
This grid ceiling LED panel retrofit provides the latest in energy efficiency combined with long-lasting, uniform light and an improved overall look.
LED Emergency Battery Backup
We offer battery backup options for a range of fixtures, retrofits and high bays that provide emergency light in times of power loss. (Customers expect you to be up-to-speed on lighting for emergency preparedness. This article covers it all!)
High Bays
For spaces with high ceilings like gyms, pools and cafeterias, high bays can be a great option, and Litetronics has a selection to deliver the necessary light and functionality for your space. BONUS: We'll soon offer smart lighting options for our high bays for even more energy saving opportunities!
Smart Lighting in Schools
Offering a greater level of efficiency and control than traditional setups, classroom smart lighting fixtures bring significant benefits. Some of the available features are:
Bluetooth control: Rather than operating fixtures individually with switches throughout the building or classroom, smartphone apps and other connected devices give educators and facility managers the ability to control the entire property from a single place.
Occupancy sensing: So much energy is wasted from lights left on when no one needs them. With motion sensors, lights can switch themselves off automatically when no one is detected in the room.
Daylight harvesting: Many classrooms have large windows that let in a lot of natural daylight. Smart illumination systems can detect this light and adjust the artificial illumination accordingly, ensuring no unnecessary energy is consumed.
Time scheduling: Administrators can schedule lights to be turned on only if they are needed. This prevents lights from staying on accidentally when no one is present.
Group editing: Older systems require large groups of lights to be on or off at the same time, regardless of how many are actually required. Smart lighting solutions, however, allow for each fixture to be controlled independently. For instance, teachers can create an appropriate lighting plan for every room or activity.
Scene selection: The ability to control the brightness and intensity of each LED means teachers and administrators can illuminate each space according to need. Dimmed lights for quiet time or playing videos; brighter lights to counteract the mid-afternoon energy slump.
What's the Benefit of Choosing Litetronics?
Contractors and ESCOs entering the educational facility market will find a strong partner in Litetronics. Here's why:
Ease of install: We design fixtures with the install process in mind. How long it takes, how many tools are required, how versatile the fixture is—we consider all these factors and integrate feedback from our customers into our designs. Our magnetic retrofit kits revolutionized the industry! Our fixtures also come with adjustable wattage and color temperature, allowing the install team to get multiple uses from one fixture.
Aesthetics: Our retrofits look good. So good you often can't tell it's not a new fixture. That can be a help when persuading a customer they don't need to go with full replacement.
Easy commissioning and control: Schools are a combination of one giant network with classrooms as little bite-size networks within the larger system. Smart systems are ideal for commissioning these environments. Bluetooth eliminates the need for wiring. Schools get the customizability they need, and teachers have control with simple but effective functionality versus complicated overkill.
Dependability: Our LED fixtures come with a 10-year warranty. This can be a lifesaver for ESCOs on a performance contract doing multi-school projects that don't want to bust the budget returning to fix things.
Add up the time savings from the ease of install, the peace of mind from our warranties, and all the different features we offer, it's easy to see why Litetronics is head of the class for ESCOs and contractors targeting schools.
To put the cherry on top of your next proposal, be sure to identify all the ways an LED upgrade will generate ROI. We've put together a comprehensive e-book with formulas: How to Sell a Skeptical Customer by Proving LED Lighting ROI. You can get it here.

By: Jim Ouellette, Regional V.P. Sales, South at Litetronics International