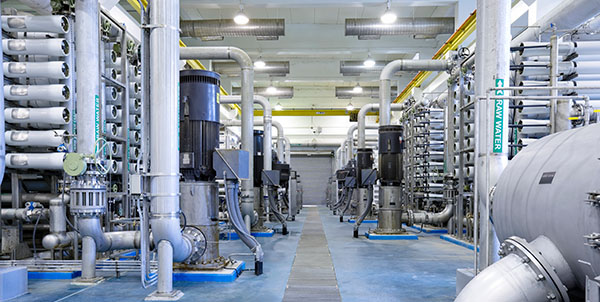 Typewriters have given way to tablets and phones have morphed into pocket computers. With technology moving at the speed of light, it seems ironic that lighting — especially in industrial buildings — is still catching up with the times.
That's changing, though. LED lighting has surpassed halogen and fluorescent in popularity and is expected to have almost 90% market share by 2030.
Industrial customers are increasingly embracing the ability to save energy costs with LED lighting. But even more important, current generation LED lights perform brilliantly (pun intended!) in the harsh and sometimes punishing conditions of many industrial facilities.
In addition to all the "normal" concerns that must be addressed in any lighting retrofit or new installation project, lighting in industrial settings must be able to withstand exposure to chemicals, heat, particulate matter, combustible materials, and more. Fortunately, finding the right LED technology to stand up to these extreme conditions has never been easier.
Challenges of Lighting Commercial Buildings
Industrial facilities usually require lighting up massive areas — and for long periods. This makes them great candidates for an LED lighting retrofit.
But decision-makers may still have concerns.
They may worry about the cost of a large-scale retrofit. Or they may be concerned new LED fixtures won't work with the existing wiring infrastructure and will need an expensive custom solution. And they'll wonder if their new lighting will meet safety standards and provide the visibility needed to keep things running smoothly.
The good news? A bit of education quickly puts most customers' minds at ease.
It never hurts to remind customers that LED lights not only use much less energy, but they also last longer (most Litetronics LEDs come with a 10-year warranty). This will save your customers on maintenance time and downtime – after all, if you're only changing a light every 10 years instead of every couple of months, the numbers add up.
Important Features of Industrial LED Lighting
To make sure the LED industrial lighting fixtures you choose last for the long haul, determine whether your lighting environment requires any of the following elements:
Resists Corrosion
Fixture corrosion is a valid concern in industrial buildings where salt or chemicals are present, or where food or beverages are processed.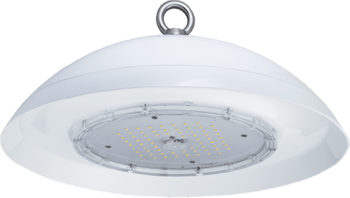 But food-grade light fixtures take care of that worry. These corrosion-resistant fixtures with stainless steel hooks stand up to harsh chemicals, salt or anything else that can eat away at fixtures.
Litetronics' food-grade NSF High Bay is perfect for environments where sanitation is a top priority. Its smooth outer shell means there are no crevices where bacteria can accumulate, and it's made from corrosion-resistant materials.
Works Under Tough Conditions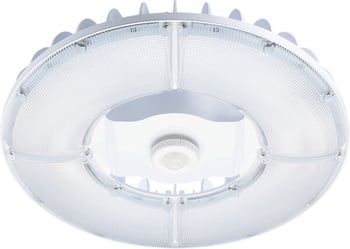 High temperatures can be a killer for LED drivers. Running heavy equipment 24/7 or using heat-emitting equipment like forges can do a number on fixtures' ambient heat ratings. But fixtures rated for specific heat needs are available — and can be worked into a cost-conscious budget.
When you're looking for a fixture that can take the heat (and the cold), the LED High Bay PL was made to withstand tough conditions. Able to operate at full efficiency under a range of temperatures (from -40°F to 149°F, this dust-tight fixture is also durable and impact-resistant).
Reduces Fire and Contamination Risks
The air in many industrial settings can have flammable gases or vapors, ignitable particles, or combustible dust – alongside fixtures with a high operating temperature. If too much heat or a spark meets any of those gases or particles, the results could be … not good.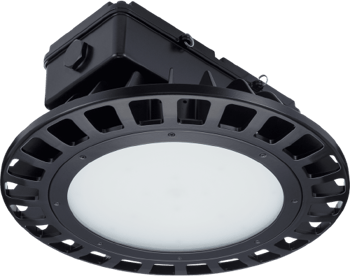 And if an industry works with water or creates dust and debris during the manufacturing process, they risk their fixtures being contaminated. Installing sealed fixtures can keep contaminants out of the fixture (even if they're hit with high-pressure jets), protect against power surges, and can extend the life of the LED lights.
Hazardous location LED High Bay lighting is ideal for these situations. It has a completely sealed electronic component, so no sparks can ignite the ambient air. It also delivers industry-leading efficiency; meets national safety standards with its Class 1, Division 2 rating; and has earned a T4 rating, guaranteeing a low operating temperature.
Is Shatter-Resistant
When looking at products for a retrofit, materials matter. Fixtures made of glass or other breakable materials risk shattering and injuring workers, causing delays due to cleanup or reduced lighting, and incurring the time and expense of replacing damaged fixtures.
Using fixtures that are rated for impacts – like our polycarbonate IK10-rated fixtures – means there will be no downtime due to damage.
Deflects Moisture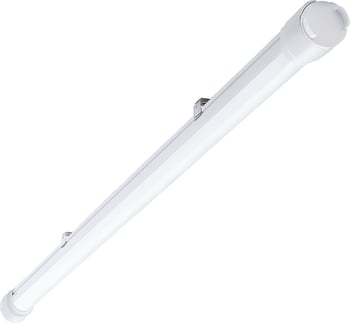 When harsh conditions are the norm — like in car washes or parking garages — fixtures that can withstand moisture and temperature fluctuations while maintaining efficiency are needed.
Fixtures like the LED Vapor Tight Slim Strip combine long-term operational savings with robust protection measures. These vapor-tight LED strips boast an IP67 rating that protects against dust and even total submersion in water for up to 10 minutes, while the corrosion-resistant fixtures and hardware stand up to chemical exposure.
Uses Controls
The last item on your checklist? Controls.
It makes sense: The priority is performance, and controls make it easier than ever for your customers to make their lighting work for them. And now, it's easy to add controls to LED industrial lighting.
Some fixtures, like the LED High Bay PL, offer the whole package: durability, corrosion and temperature resistance, and protection against dust and moisture. What's more, they allow for the easy installation of pluggable sensors for occupancy sensing, time scheduling, and daylight harvesting and can be easily adjusted from the ground via remote control without needing third-party assistance — all with no impact to performance.
Lighting Design Strategies for Industrial Spaces
Picking the right industrial lighting isn't as easy as selecting only what looks good or what lights the space best.
Instead, look to meet industrial codes as well as productivity and safety needs. Understanding the type of the facility and the environment — explosive vapors, temperature swings, moisture issues, etc. — will help dictate what lighting is right for the space.
As you plan a lighting retrofit, there are several factors to consider.
Lighting Codes and Standards
Before planning and executing a retrofit, consult national standards and guidelines, like the International Energy Conservation Code and the American Society of Heating, Refrigeration and Air-Conditioning Engineers standards and guidelines.
Safety
Inadequate or outdated lighting is dangerous for workers, who must be able to see what they're doing and where they're going. Ensure the retrofit considers brightness, temperature, and luminosity and provides a safe, secure working environment.
Reliability
Fixtures that routinely burn out or are easily damaged can cause big disruptions to production and safety. Retrofitting industrial spaces with reliable, long-lasting industrial LED lighting can help guarantee consistent illumination and years of operation.
Need Help Selecting the Right Product for an Industrial Retrofit?
The benefits of retrofitting industrial spaces with LED lighting go far beyond long-term energy savings and increased efficiency. Upgrading to lighting with modern features also makes for a safer, more productive work environment for years to come.
Ready to learn more about how Litetronics' industrial LED lighting can improve safety, reduce maintenance, and boost efficiency through automation? Contact a sales rep today, and they'll help you select the right lighting for your next retrofit project.