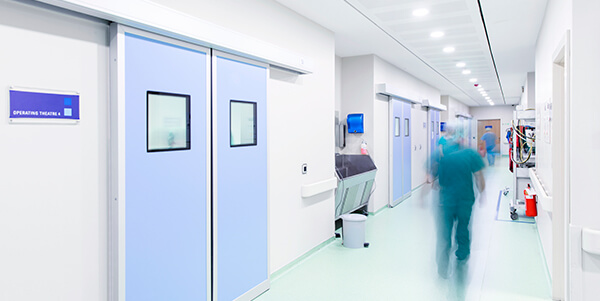 Working with hospitals can be highly profitable for LED lighting contractors and ESCOs. But like any industry, healthcare comes with its own set of challenges and requirements.
The key to winning lucrative hospital lighting jobs? First, you need to have an in-depth understanding of the unique considerations and needs that accompany healthcare lighting setups. Combine that with insight on emerging LED technologies — and how they can help hospitals save money while increasing efficiency — and you've got an irresistible value proposition.
Understanding Hospital Lighting Needs
There are three main areas of concern when it comes to hospital lighting. You can impress a potential customer by showing you understand how a lighting upgrade can address each concern.
Energy Costs
Like any large facility, hospitals are looking for ways to lower energy costs. Lighting costs account for as much as 30% or more of the average hospital's total energy expenses, according to HC+O News.
Lighting costs account for as much as
30%
or more of the average hospital's total energy expenses.
Why so much? As it turns out, many hospitals struggle when it comes to updating their infrastructure. A 2018 Health Facilities Management article pointed out that the median age of plant has trended upwards by nearly three years over the last two decades, meaning that hospitals are struggling to raise the funds needed to keep facilities updated.
For this reason, many hospitals still have outdated lighting fixtures like fluorescent, halogen, or HID/metal halide. These fixtures significantly contribute to their operating costs.
Age of Plant (AoP): A financial ratio that measures how well a hospital is keeping its facilities up-to-date. The ratio is calculated as accumulated depreciation over depreciation expense.
You can help hospitals out of this conundrum by clearly outlining the energy and maintenance costs required to keep such fixtures working. The stronger a case you can build for the ROI of LED lighting, the better the odds that stakeholders will agree to earmark the funds needed.
Health, Safety & Visibility
Light is crucial to everything that happens in a hospital, and it's an environment where poor lighting can have devastating results.
The U.S. Department of Labor reports that the second highest cause of injury in hospitals is from slips, trips, and falls. Eye strain from inadequate light, or the wrong color of light, can impact healthcare worker productivity and morale. And that's not even considering the errors that can take place during patient care if lighting is poor.
Help hospital customers understand that an LED lighting upgrade will enhance visibility and color quality (use before-and-after shots or even a live demo in a shadowy hallway), ultimately benefiting staff health and safety as well as patient experience and cleanliness.
Versatile Lighting
A hospital has a wide range of working areas to light: Operating rooms, maintenance areas, patient rooms, and cafeterias are just a few examples. Each of those areas have their own unique lighting needs, and older lighting fixtures simply don't offer enough versatility in light quality or controls. Here are some ways in which versatile LED fixtures can deliver the right light for the right purpose.
Flexible Wattage
Hospitals are 24/7 facilities, but the lighting needs aren't the same in every area — or during every hour of the day. Staff may want the lights in one space to be regularly brighter than in another, for example.
Fixtures that offer multiple wattage/output levels simplify the upgrade process. One fixture type can be used for multiple building locations, with the output set to different levels based on the needs of the staff. A single fixture type makes for a more straightforward installation for workers, too.
Occupancy Sensing and Daylight Harvesting
Hospitals see a lot of traffic at all times of day. They also need to accommodate a lot of parking space. Adding occupancy sensing to parking garages delivers visibility and safety without burning lights all night long. During the day, daylight harvesting technology can dim fixtures in outer areas where sunlight is brightest.
Battery Backups
Most hospitals have generators to keep vital services working in a power outage. However, smaller facilities – like urgent care centers – can benefit from battery backups that sustain light during an outage.
Staff/Patient Experience
Hospitals want to be known for their quality of care. But that reputation can come into question when patients see dingy, flickering, or otherwise outdated lighting. Bright, clean, reliable LED lights are reassuring to patients and their families, creating a much more pleasant atmosphere.
Long Life

Hospitals are busy, so having to set aside work for frequent lighting replacements can be frustrating and disruptive. With LED, a 100,000-hour rated fixture life and 10-year warranty means much less need for everyday maintenance, like bulb replacement, in clinical and patient areas. And it will be years until another upgrade is needed.
Best Practices for Hospital Upgrades
One of the first things a physician does when meeting a patient is listen as they describe their symptoms. That's a smart approach for contractors as well. Hospitals are complex facilities, and you'll want to adjust the proposed lighting system and work plan to what each hospital needs. For instance:
Keep It Simple
It's easy to be enthusiastic about all the LED technology, controls and features you can offer. But the lighting solution you recommend must work for the customer. For example, patient rooms see frequent turnover and staff don't want to have to explain how the lights work to each new admittee or deal with patients fumbling with controls. On and off may be fine.
Scheduling Is Crucial
As we've noted, disruption will be a primary concern. When a hospital plans for a big project like an LED lighting upgrade, they need to know that the right product is available and can be delivered on time. It's likely the hospital may need to shift activities or close off areas while you work to protect patient safety and privacy.
Have all your ducks in a row and consider the install process. Litetronics offers a range of LED Retrofit Kits that can be installed into existing fluorescent troffers. Workers likely won't need to open the ceiling plenum to remove and replace older components, streamlining the install.
Note: This exact setup was used at Baptist Health, where the contractor was able to upgrade standard fluorescent troffers to powerful LED lighting in as little as three minutes apiece. Feel free to read and download this case study to help you win over ROI-nervous customers.
Upgrades to high-performing, energy-efficient LED technology can be a quick and easy way to improve a hospital's lighting quality while significantly reducing operating costs. Versatile, easy-install Litetronics' LED fixtures can help you make the sale. Reach out to one of our Sales Reps to learn more.

By: Graylin Schultheis, Owner, Southern Illuminations, LLC